The fermented bean curd chicken is a famous traditional dish in Anhui province. Using the fermented tofu juice as seasoning is a feature of cooked dishes. Bean curd chicken is steamed with milk and sweet rice wine. After the dish salty and sweet moderate, fragrant, unique flavor. It has the effect of nourishing the body and recuperating. It tastes salty and sweet with a strong aroma.
How To Make The Fermented Bean Curd Chicken
Step 1
Get all the ingredients ready.
Step 2
Chicken diced and marinated with tofu for 30 minutes,
Heat up the wok again with chopped scallions and ginger until fragrant. Add the marinated chicken and stir fry
Step 3
Add seasoning and stock. When stock is dry, thicken with cornstarch
And then do a good job in this fermented bean curd chicken.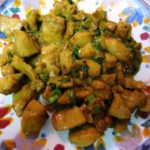 Print Recipe
The Fermented Bean Curd Chicken
Equipment(affiliate link)
Ingredients(affiliate link)
Accessories
fermented bean curd 

The onion

soup-stock

Water starch

oil