The chop pepper and needle mushroom with preserved egg is a delicious food with preserved egg and preserved mushroom as the main ingredients.
The needle mushroom  can be eaten by the general population. Suitable for the elderly, children, cancer patients, liver diseases and stomach, intestinal ulcer, cardiovascular disease patients.
How To Make The Chop Pepper And Needle Mushroom With Preserved Egg
Step 1
Get all the ingredients ready.
Step 2
Peel and wash the preserved eggs. Cut 4 pieces each, then arrange on a plate.
Step 3
Needle mushroom remove the old root boiled water hot water drain water.
Step 4
Add sesame oil to pan and heat up.
Step 5
Add chopped green onion and chopped pepper and fry until fragrant.
Step 6
Then pour into the needle mushroom.
Step 7
Add sugar and salt.
Step 8
Add balsamic vinegar.
Step 9
Add the soy sauce for the steamed fish.
Step 10
Mix well.
Step 11
Place the egg on a plate and serve the chop pepper and needle mushroom with preserved egg.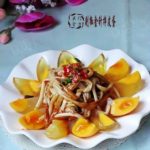 Print Recipe
The Chop Pepper And Needle Mushroom With Preserved Egg
Ingredients(affiliate link)
3

pcs

Preserved egg

150

g

needle mushroom
Accessories
10

ml

Balsamic vinegar

Chop bell pepper