How to make Yunnan steampot chicken. Many people like to eat Yunnan steampot chicken. But it doesn't seem to taste well. Let's take a look today.
How to Make Yunnan Steampot Chicken
Step 1
Wash the chicken and cut it into small pieces. Add salt and white pepper and marinate for half an hour, then place the chicken cubes evenly around the steampan and spread the ginger flakes on the surface of the chicken.
Step 2
Prepare a soup pot. Make sure the diameter is similar to the steampot. Add water to the soup pan and soak a clean towel around the soup pan. Then put the steampan. Seal the edges of the soup and steam pan with a towel.
Step 3
If you don't have a suitable soup pot in your home, you can also put the steamer in the steamer. After the fire boiled the water, it turned into a small fire and cooked slowly for 2 and a half hours, until the chicken was ripe.
Such delicious Yunnan steampot chicken is complete.This is the steam pot chicken, the big name ha. A lot of friends keep asking me what I do. By the way, it's really that simple. Even seasoning is very simple! But the taste really has nothing to say!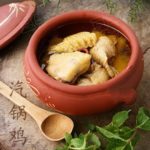 Print Recipe
Yunnan Steampot Chicken
Equipment(affiliate link)
Ingredients(affiliate link)
2000

g

chickens (domestic)