The hot candied sweet potato is a famous traditional dish made of sweet potato, sugar, oil and other food. There are six ways to make it.But I only introduce one of them.
Sweet potato root sweet taste, can be spleen and stomach. Stem leaves sweet, light, slightly cool, into the lung, large intestine, bladder classics; Have embellish the lung, and stomach, benefit urinate, platoon bowel purulent go corrupt; Apply to bowel dryness constipation.
How To Make The Hot Candied Sweet Potato
Step 1
Get the ingredients ready
Step 2
Cut sweet potato into pieces
Step 3
Put water in the pot to boil, pour sweet potato, blanch for 2 minutes
Step 4
Pour sweet potato into bowl, add starch, stir well
Step 5
Put oil in the pot, heat the oil until 70% mature, pour in sweet potato, fry until golden brown
Step 6
Add sugar in pan, simmer until syrup
Step 7
Pour in sweet potato, stir fry evenly can be used
Now Let us enjoy the hot candied sweet potato. I think it must be sweet and tasty.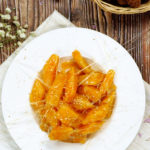 Print Recipe
The Hot Candied Sweet Potato
Ingredients(affiliate link)