Dry roasted pork feet is a famous dish with all the flavors, belonging to the Jiangxi cuisine.How does dry roasted pork feet make the most delicious? This dish is easy to learn and tastes good. I hope my sharing can help more friends.
How to Make Dry Roasted Pork Feet
Step 1
Wash and dry the pig's feet (forefoot), and pull out the pig's hair;
Step 2
Soak the pig's feet with water,which pig hairs have been plucked.Then scrape the membrane in water with a knife, and remove and dry the water;
Step 3
Then divide the pig's feet along the seam of the bone. Boil it with boiling water, and then wash it in cold water. Raise and drain water for future use;
Step 4
Take a large casserole and put a bamboo grid at the bottom of the pot to avoid drenching the bottom during dry baking. Then put the pig's feet on the bamboo grid, put the sliced ginger, spring onions, star anise, and then put water, cooking wine, soy sauce, rock sugar in order, and place the casserole on the low heat;
Step 5
Stir in about 3 hours. When the soup is almost dry, add an appropriate amount of MSG and stir again. Stir until the meat is rotten, soup is flat, and the pig's feet are all golden yellow. Pick up the shallots, ginger, and fennel and serve. Or put them on a plate.
Such delicious dry roasted pork feet is complete.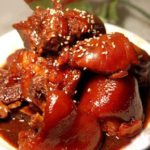 Print Recipe
Dry Roasted Pork Feet
Equipment(affiliate link)
a large casserole

 bamboo grid

a plate
Ingredients(affiliate link)