The Chinese are very particular about balance in every aspect of their lives. Their cuisine is no different. The concept of Ying and Yang presents perfectly in this hot and sour dish. On one hand, your taste buds and appetite are quenched and nourished with the burst of flavours, while on the other, your body receives tonnes of benefits, both health and nutritional. These 2 easy hot and sour soup recipes each include a blend of common ingredients to bring out unique and mouth-watering results. First, let us see the health benefits of having this delicious soup in your menu.
Health Benefits Of Hot And Sour Recipe
These easy hot and sour soup recipes bring together a perfect mix of spices and other ingredients, all of which have separate and significant benefits to them. Below are some of the major strengths of this super soup:
The soup is very low in calorie content. In fact, one serving carries roughly 90 calories, which is significantly low compared to most dishes. The soup can be a great option for people looking to go into diets, while still being able to enjoy their favourite foods.
It is a decongestant. The soup is very hot as its name suggests because of the use of different chillies and peppers. If you are a common pepper or chilli eater, you might have noticed that the hotter the food, the more you sweat and get a runny nose. This is because pepper and chilli help in thinning mucus by increase body temperatures. The same way that steam does. The rise in body temperature thins mucus making it easier to get rid of.
The soup is a great source of the mineral magnesium. Magnesium is especially great for developing bones because it is a main constituent of bone marrow. Taking this soup frequently will help keep bone diseases such arthritis at bay.
Like all other hot soups, this hot and sour dish greatly helps with chest pains and colds. If you take this soup in the morning or during cold seasons, it will help keep the cold out of your respiratory system, therefore keeping you healthy.
Caution
As much as the soup is great for chest pains, the hot and sour dish is very high in sodium, which is a major culprit in causing high blood pressure, which may in turn lead to cardiovascular complications. If you have incorporated this soup into your menu frequently, try to avoid other high sodium foods and make sure to drink lots of water.
Ingredients
These easy sour soup recipes have some things in common including the method of preparation and some basic ingredients. The only difference in fact, comes from your choice to include meat and eggs. Some of the common ingredients in all the easy hot and sour soup recipes include mushrooms, pepper, chillies, vinegar, broth, cornstarch, sauces and scallions. They are all easily available in common grocery stores. However, if you have a hard time getting them, you can always check the Asian markets or stores near you.
List of All You Will Need:
4 cups chicken broth.
4 cups vegetable broth.
For Each Recipe
½ cup mushrooms (black, button, or wood ear).
Handful of bamboo shoots (cut into thin strips).
½ teaspoon pepper.
1 teaspoon hot sauce.
3 tablespoons chilli paste.
2 tablespoons vinegar.
4 teaspoons soy sauce.
1 teaspoon sesame oil.
4 tablespoons cornstarch.
8 tablespoons water.
2 sliced scallions.
2 ground cloves.
Optional
1 egg beaten.
4 oz. pork shoulder (cut into thin strips).
½ cup tofu (cut into thin strips).
½ cup water chestnuts.
Tips:
After removing the stems, soak the dried mushrooms in hot water for about 20 minutes before cutting them into cubes or slices. This helps soften them.
Do the same for the pork, but in cold water. The soaking helps hydrate the strips preventing clumping.
Mix the cornstarch and water for each recipe and have it ready for use.
The Two Recipes
We have divided the main recipe into two so as to make it more diverse. At the end of it all, the basic principle of the soup remains in these easy hot and sour soup recipes, and they are all just as delicious.
1.Vegetarian Hot and Sour Soup
Our first recipe is for those who have adopted the vegetarian style of life. The recipe is just as tasty as the other meat based easy hot and sour soup recipes. The soup still maintains its crunchiness with the substitute bamboo shoots and water chestnuts. With all your ingredients, gather all the listed common ingredients, excluding, the meats and egg.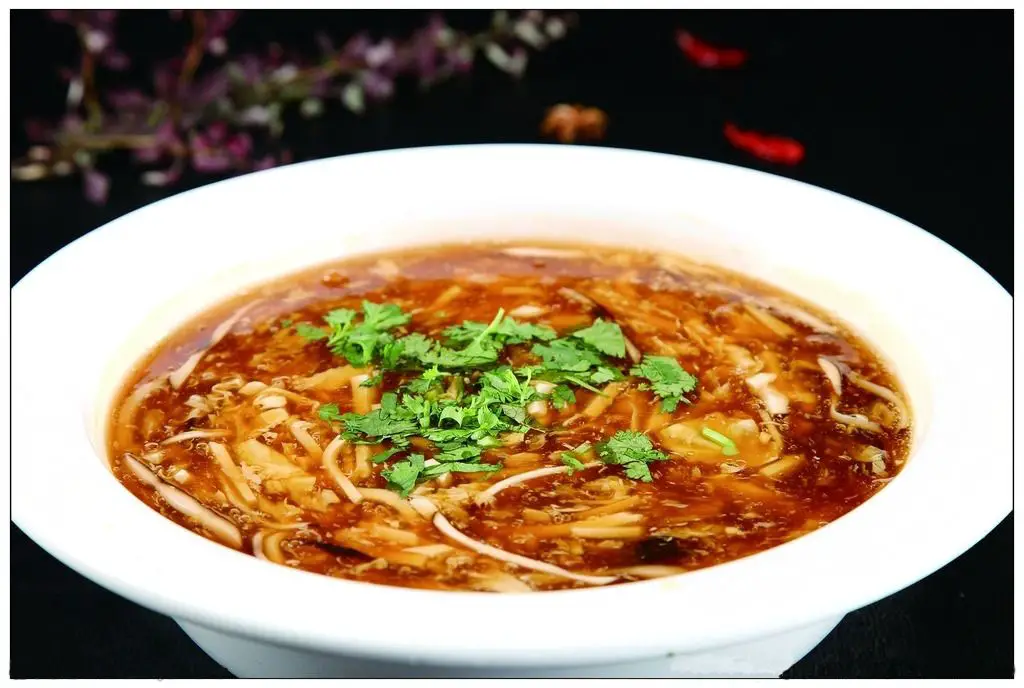 In a wok, bring the vegetable broth into a boil. Slowly add the mushrooms, bamboo shoots, pepper, vinegar, soy sauce, chilli paste, and water chestnuts. Stir them carefully and let the wok slowly simmer. After about 20 minutes, check that all the ingredients are soft and almost ready. Add in the cloves and scallions and cook for 2 minutes. Taste to see whether you need additional vinegar or soy sauce according to your preference.
You can serve the soup at this point. However, for a thicker outcome, take the stirred cornstarch-water mixture, and slowly add into the wok while carefully stirring. You will notice the soup getting thicker. You do not have to use the whole mixture. Just set the soup to the thickness you want. Once you are satisfied with the consistency, let the soup cook for 3-4 more minutes. Serve when hot for the best results.
2.Traditional Hot and Sour Soup
The traditional hot and sour soup dish is a common option in all Chinese restaurants. It is also a celebrated meal in Chinese families, slowly spreading into the larger Asia. It incorporates the tender and very delightful taste of the pork shoulder and eggs or egg flowers as more commonly referred in China.
This time, take the chicken broth and place it in a wok. Bring it to boil and then add the pork. Make sure to break any clumps that may form and bring this to boil once again. Now add the chilli, pepper, vinegar, mushrooms, bamboo shoots, and soy sauce carefully stirring the mixture. Let the soup sit and simmer. Now add your tofu gently stirring, followed by the cloves and scallions. Stir to mix everything well and let the soup boil once again.
Finally, add in the cornstarch mixture as you carefully stir. Make sure you start stirring immediately you start pouring to avoid having the cornstarch settling at the bottom of your wok. Let the nice thick soup cook for about two minutes or until bubbling. Take the beaten and stir it into the soup. Keep the stirring consistent until the egg forms nice ribbon like strips. If you leave the egg after pouring it will form clusters as opposed to ribbons. After two minutes of stirring and simmering, remove the wok from the heat, and serve when hot.
Serving Suggestions
Depending on your preferences and time of consumption, these easy hot and sour soup recipes can be sole dishes or as accompaniments for other main courses. Some of the common foods that pair perfectly with hot and sour soup include Kung Pao Chicken and Chow Mein. Beef can also be a substitute for pork, when looking for variety or in lack of pork.