The braised pork with radish and carrot is kind of delicious food for eyes and mouth. It's simple and worth DIY.
How To Make The Colorful Braised Pork with Radish and Carrot
Step 1
Clean the streaky pork.
Step 2
Cut the processed streaky pork into small pieces.
Step 3
Prepare chives and ginger.
Step 4
Boil the water in the pot, then put the streaky pork, onion and ginger into the pot together, and boil the pork to remove the blood.
Step 5
Prepare radish and carrots, ginger and shallot heads.
Step 6
Wash the cooked pork and put it into the pot again with a little water, then add the thick soy sauce.
Step 7
When the streaky pork is cooked to a rotten state, put in the radish,carrot and ginger, chive stem, and bring the water to boil.
Step 8
Prepare oyster sauce.
Step 9
Put some oyster sauce to taste before the dish is leaving the pot, then heat over high heat until the sauce is collected and serve.
Step 10
This is the double color braised pork.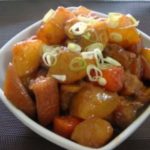 Print Recipe
The Colorful Braised Pork with Radish and Carrot
Equipment(affiliate link)