The hot and spicy fish head with red pepper is a delicacy, the main ingredient is fish head, accessories are salt, cooking wine, ginger, chives, vegetable oil.It is easy for us to make and it tastes great if you like spicy food and seafood.
How To Make The Hot And Spicy Fish Head With Red Pepper
Step 1
Get the ingredients ready
Step 2
Cut the chillies into small pieces and finely chop the remaining ingredients
Step 3
Pour some oil, fry the fish head
Step 4
Fry until golden brown, then set aside
Step 5
Put all the ingredients in and stir fry for a while,
Step 6
Then add water and some soy sauce
Step 7
And then I'm going to put the Fried fish head in there and cook it for a while,
Step 8
Put the shallots in the pan
Step 9
Then you can put it on the plate
Let's try the hot and spicy fish head with red pepper. If it tastes good, you can share with your family and friends.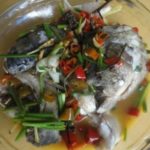 Print Recipe
The Hot And Spicy Fish Head With Red Pepper
Ingredients(affiliate link)
1

pcs

head fish

150

g

Sour chili
Accessories
The onion

oil

The soy sauce