Twice cooked pork recipe is a treat that is hard to beat. The challenge is that the dish is preserved for festivals for most families, therefore, it does not frequent most tables. Furthermore, the effort it takes to prepare the food really requires you to have patience to a desired palate.
Just from the name, twice cooked pork recipe involves cooking the pork twice; the entire pork is simmered until it is wholly cooked before it is stir-fried with sauce. The best pork cuts for this recipe is the fatty pork, that should probably be another reason why the food should not be a commonplace in your home, more so if you care about your waistline.
Nonetheless, once you get it right the first time, you will realize how simple it is, and can improve on your technique in the subsequent cooks. One of the hallmarks of twice cooked pork recipe is the sauce that is served alongside the dish. Some of the all-time good spices include:
Fermented Spicy Bean Paste
This is not your everyday regular hot sauce; whose selling point is the ability to sting the tongue. Contrarily, the key ingredients used in making it such as dried fava beans, salt, wheat floor and fresh chili peppers which have been properly aged give it an intense savory flavor. Those who are familiar with cuisine dishes are aware of its goodness.
Fermented Black Beans
Fermented black beans is made specially form cooked black soy beans fermented with salty water. The sauce delivers an umami flavor that is synonymous with dark soy sauce, only that is it much more intense. That is a major advantage since you can replace it with soy sauce to get a similar effect.
Sweet Bean Sauce
Translating the 'sweet bean sauce' directly to Chinese yields sweet flour sauce. It consists of fermented flour and water, and has a characteristic salty taste yet the aftertaste is rather sweet. In most restaurants, it is served alongside roasted duck and Moo Shu Pork. Much of this flavor originate from the fermentation process.
Do These Sauces Matter?
Simply put, yes, they do. While it may appear odd to get three sauces all at once, you need to realize that this is a worthwhile investment. It may cost you a few dollars, but the final output from the twice cooked pork recipe will be surpass your expectations. So, trust the process.
Ingredients
Pork
1-pound pork belly, whole
4 chili peppers, dried
2 green onions
2 slices of ginger
Sauce 1
2 ½ tablespoons fermented spicy bean paste, coarsely chopped
2 teaspoons soy sauce or fermented black beans, coarsely chopped
2 tablespoons dry sherry or Shaoxing wine
Sauce 2
2 ½ tablespoons hoisin sauce, or sweet bean sauce
2 teaspoons sugar
Stir-fry
1 tablespoon vegetable oil, or peanut oil
2 cloves garlic
2 ½ teaspoons ginger, finely ground
1/3 onion, sliced into thin slices
4 green onions
1 pepper, any choice, large
Instruction
To a small pot, add the whole pork with green onions, chili peppers, ginger and water sufficient to cover 1 inch of the pork. Adjust the heat settings to medium to bring the contents of the pot to a boil after which you can lower the heat, cover the pot and allow it to simmer for another 20 minutes, till the pork is just cooked through.
Drain excess water from the pot, remove the pork and place them on wet paper towels to ensure all the excess liquid drains off. Once it is done, chop the pork into bite size pieces (1/8 inch). Continue drying off any excess liquid to prevent it from forming spluttering during stir frying.
Meanwhile, you can be preparing the other ingredients. Mix the sauces together in two different bowls.
Place a large skillet over the cooking stove and add some oil and allow it to become hot. Add the chopped pork belly. Stir the contents of the wok continuously until you observe a color change. It should turn to dark brown, and begin becoming crispy. Heap the pork in one side of the skillet, leaving some oil on the empty part of the skillet.
Add sauce 1 to the skillet. Cook over low to medium heat until it begins to fragrance and turns red. That should take about a minute.
Readjust the heat settings to medium. Mix the pork and the cooked sauce 1. Top it off with sauce 2, onions and peppers. Stir continuously for a minute before adding the green onions. Stir a few more times and it should be ready in less than 10 seconds.
Serve while hot
Finishing
The final product of twice cooked pork recipe is best served over steamed rice.
Notes
Unlike the popular belief that you can do without black beans, the fermented beans offer an entirely new level of umami to the dish. However, if you intend to use soy sauce, you can use whole beans rather than chopping them.
The sweet bean paste gives the dish an authentic Sichuan flavor. It can be substituted with hoisin sauce, and in such a case, you should not use sugar.
There is no restriction on the type of pepper to use. Most people prefer Anaheim peppers due to their crispy texture, which are beneficial in cutting down the grease content of the dish. Alternatively, you can opt to use bell peppers
While the pork is simmering, you should be careful not to overcook it. Otherwise, it may end up being chewy once it has been stir fried.
Once you have boiled the whole pork, you should give it some time to cool before you begin chopping it to bite size pieces for obvious reasons. However, you should remember that if you leave it to cool completely chopping becomes difficult.
The extra fat produced by the whole pork is beneficial since it prevents the sauce from drying out. However, if the pork cut is extra fatty, you can drain off excess oil using paper towels, and only leave about 4 tablespoons.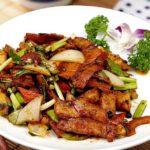 Print Recipe
Twice Cooked Pork
Twice cooked pork recipe is a treat that is hard to beat.
Ingredients(affiliate link)