The braised eel is a popular dish in Guangdong province, the main ingredient is eel. Eel should not be eaten with vinegar or ginkgo.
How To Make The Braised Eel
Step 1
The eel is slaughtered and washed, sliced, salted, MSG, cooking wine, soy sauce, sweet sauce, oyster sauce, onion, pepper, ginger marinated to taste.
Step 2
Wash the garlic bolt, cut into long sections, blanch it, add salt and monosodium glutamate, stir fry it in the pot, thicken it, remove it and put it on the bottom of the plate.
Step 3
Put the pickled eel into the oven, bake for 15 minutes, and put it on the garlic bolt.
Step 4
Put a little oyster sauce in the pot, heat it with soy sauce, thicken it, and pour it on the eel.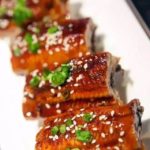 Print Recipe
The Braised Eel
Equipment(affiliate link)
Ingredients(affiliate link)