The fried pork muscle with fruit juice is a traditional specialty of Guangdong Province, which belongs to the Cantonese cuisine. The fruit juice is the main material for the fried meat jerky, and the cooking is mainly for the fried vegetables. The taste belongs to the fruit juice flavor. This dish is crispy outside, tender inside, refreshing and appetizing, with outstanding Lingnan flavor.
How To Make The Fried Pork Muscle with Fruit Juice
Step 1
Slice the lean meat into 3 mm pieces, beat the two sides loose with the back of the knife, then cut into 4 cm long and 3 cm wide pieces;
Step 2
Marinate the cut preserved meat with salt, add the egg liquid and mix well, then mix in the dry starch;
Step 3
Heat the wok with medium heat, heat the peanut oil to 50% of the heat, put in the shrimp slices, stir while frying, fry until it is swollen and crisp, and drain the oil into the hedge;
Step 4
Put the end of the pot away from the mouth of the fire, drain it into the meat jerky one by one, temper the end, fry and refuel, turn over the meat jerky when the golden color is hard, so as to fry the other side;
Step 5
Then add the oil, bring to a boil, leave the end of the fire, fry and soak for about 1 minute, pour in the hedge and drain the oil;
Step 6
Leave the end of the pot from the fire, put the preserved meat into it, put it on the tempering plate, boil the rice wine in high heat, add the juice, drizzle the sesame oil and peanut oil, stir well, and then put on the plate with the shrimp slices.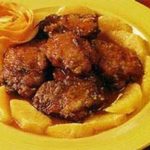 Print Recipe
The Fried Pork Muscle with Fruit Juice
Equipment(affiliate link)
Ingredients(affiliate link)
400

g

pork

15

g

shrimps slicee
Accessories
60

g

egg

starch

oil

fruit juice

yellow wine