Chinese food has some of the best variety of foods you can ever have. The good thing with these appetizing foods is the ease with which you can get them, coupled with the fast prep time required. Some foods can get ready in as little as five minutes. While the ease of getting the food is remarkable, it is a cause of concern more so to the food lovers who have just discovered there is something known as healthy living.
It causes a question: How Many Calories Are in My Favorite Chinese Food? I think the answer depends on which Chinese food you are eating. Chinese food like other countries' cuisines has low calories recipes and high calorie recipes.
Why We Should Care About Calorires When Eating Chinese Food?
We are all in a race- the race to lead healthy lives and possibly loose weight. If you are not, then I won't comment on your case, except by mentioning that you will be left behind. The first thing that comes to mind when one thinks of healthy living is watching what you eat. Closely tied to that, is the calories. So, there is the million-dollar question, what are the calories in Chinese food?
The significance of caloric content of any food is vital especially for those who are watching their weight. There are several foods that are calorie dense, and they inevitably lead to weight gain. On the other hand, some foods have low caloric content, and at times are classified as zero calorie foods, and drinks. A classic example of this is black tea. It is therefore imperative for you to strike a balance between the calories you consume in comparison with the daily caloric content.
Worth mentioning is the fact that most junk foods have high calories, and are commonly referred to as empty calories. That is because most of them do not have any notable nutritional benefits, and the calories are mainly because of the high caloric fat content.
For one reason or another, you may be interested in maintaining a healthy lifestyle. It begins with dieting. However, you do not have to worry because in this article, I am going to brief you on the calories in Chinese foods, and by that, I mean the common foods you prepare at home or can order in a restaurant. I have built the calorie chart below for you. If you are a calories-sensitive person, this chart will help you to determine which foods you should choose.
The Ultimate Chinese Food Calories Chart
Appetizers
In China, the appetizers are some vegetable dishes, like shredded cucumber, sour and hot seaweed, or fried peanuts. But for those out of China, the roll usually is the best appetizers for the people. The ease with which even those with the least appetite can down the plate is usually astounding. However, the next time you go beige feasting with the roll, you need to remember that you are unknowingly packing in a lot of calories.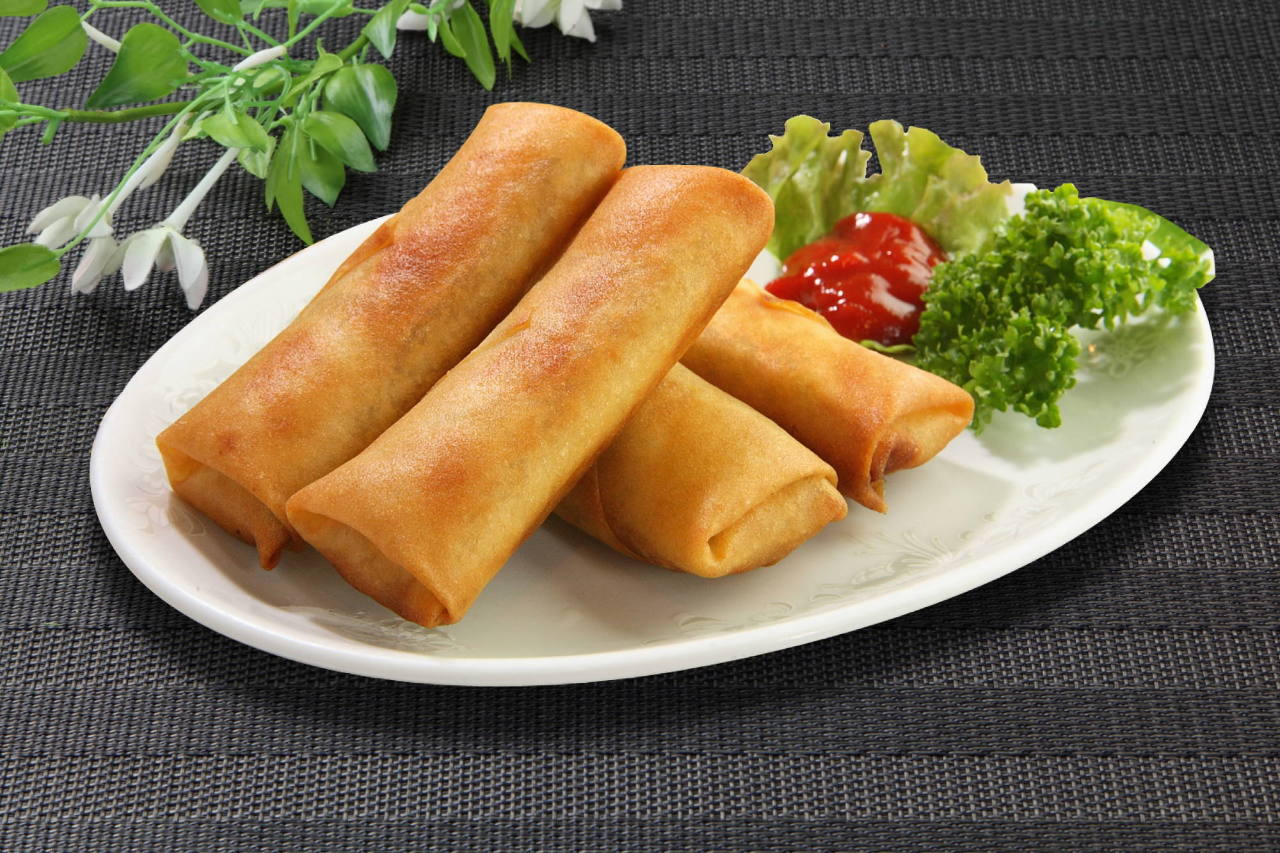 When it comes to rolls, your go-to option should be less meat such as a veggie egg roll or chicken egg roll since they are less caloric dense. Other plausible options for those who are dieting include steamed spring rolls, and vegetable dumplings, or on your cheat day, taking an eggroll can be admissible. The caloric content of these dishes is as follows:
| | | | |
| --- | --- | --- | --- |
| Recipe Name |   | Serving Size | Calories |
| Veggie Egg Roll |   | 1 | 190 |
| Pork Egg Roll |   | 1 | 190 |
| Chicken Egg Roll |   | 1 | 180 |
| Crab Rangoon |   | 1 | 130 |
| Shredded Cucumber |   | 1 | 41 |
| Spring Roll |   | 1 | 165 |
As you can see, vegetable dishes have the low calories than other roll recipes. Because some of the rolls use oil to fry which will increase the ratio of calories. We recommend you eat vegetable dishes as an appetizer when you prepare a dish for the family or go to a Chinese restaurant.
Soup
Chinese people are famous for their love of soup, not only in all kinds of formal dining occasions but also in daily life on the table can not be separated from a variety of soups, each region can be said to have its characteristics of soup.
In Chinese cuisine, soup may be served at any time during the meal, while in Western cuisine it is served at the beginning, after the appetizer. In Japan and the Korean Peninsula, soup is served with the meal.
Most people think the soup has high calories. Generally speaking, those soups with high calories are meat soups. If you eat vegetable soup or bean soup, there will be fewer calories. Besides, if you don't eat the meat from the meat soup, you will not intake many calories.
The caloric chart of these soup is as follows:
Meat
Any country will use meat to make many different dishes. China also has many abundant famous recipes that use chicken, duck, beef, pork, shrimp, etc.
I believe that most people like to eat meat, but we all know that meat is relatively high in calories. So if people want to lose weight, they must hold back from eating meat.
To get a better body, many girls give up eating meat as their first choice. In their view, meat is a "stumbling block" on their road to weight loss. But they do not know that do not eat meat not only can not smooth weight loss but also affect the body's metabolism, resulting in malnutrition. So eating meat properly is pretty important.
The caloric chart of these Chinese poultry recipes is as follows. It is a long chart due to China has many recipes in this area.
| | | | | |
| --- | --- | --- | --- | --- |
| Recipe Name |   |   | Serving Size | Calories |
| Almond Chicken |   |   | 6 oz | 270 |
| Beijing Chicken |   |   | 6 oz | 270 |
| Black Pepper Chicken |   |   | 6 oz | 220 |
| Black Pepper Duck |   |   | 6 oz | 180 |
| Cashew Chicken |   |   | 6 oz | 260 |
| Chicken with Broccoli |   |   | 6 oz | 230 |
| Garlic Chicken |   |   | 6 oz | 220 |
| General Chicken |   |   | 6 oz | 360 |
| Hunan Chicken |   |   | 6 oz | 240 |
| Kung Pao Chicken |   |   | 6 oz | 230 |
| Mushroom Chicken |   |   | 6 oz | 220 |
| Sesame Chicken |   |   | 6 oz | 390 |
| Spicy Orange Chicken |   |   | 6 oz | 360 |
| Sweet and Sour Chicken |   |   | 6 oz | 370 |
| Sweet Orange Chicken |   |   | 6 oz | 390 |
| Szechuan Chicken |   |   | 6 oz | 250 |
| Almond Chicken |   |   | 6 oz | 350 |
| Beef with Broccoli |   |   | 6 oz | 200 |
| Beef with Vegetables |   |   | 6 oz | 200 |
| Mongolian Beef |   |   | 6 oz | 210 |
| Mushroom Beef |   |   | 6 oz | 200 |
| Pepper Beef |   |   | 6 oz | 220 |
| Hunan Pork |   |   | 6 oz | 200 |
| Pork with Green Beans |   |   | 6 oz | 180 |
| Pork with Vegetables |   |   | 6 oz | 180 |
| Szechuan Pork |   |   | 6 oz | 210 |
| Twice Cooked Pork |   |   | 6 oz | 180 |
| Kung Pao Shrimp  |   |   | 6 oz | 140 |
| Shrimp with Vegetables |   |   | 6 oz | 150 |
| Triple Delight |   |   | 6 oz | 190 |
| Steamed Abalone With Garlic |   |   | 10 abalone | 100 |
Rice & Lo Mein
Rice and Lo Mein are the staple food in China. Generally speaking, the staple food in Northeast, East, South, and Southwest China is rice, the staple food in Northwest China is noodles, and in North China rice, congee, noodles, and pasta are not distinguished. The reason is very simple, that is, what to grow, what to eat. So please don't be surprised when you saw some Chinese eat rice and others eat noodles.
The idea that staple foods are high in calories and make you fat is well established. One gram of fat produces 9 kcal, while 1 gram of carbohydrate and 1 gram of protein produce 4 kcal each. The main food is mainly carbohydrates, so it is not reasonable to say that the main food is high in calories. Many staple foods are not only low in calories, but can also provide a sense of satiety, but also conducive to weight loss, such as oats, red beans, buckwheat, and black rice.
You can use the low calories staple food to match the high calories food but delicious to achieve a balance. Just use the below chart to make your decision.
| | | | |
| --- | --- | --- | --- |
| Recipe Name |   | Serving Size | Calories |
| Steamed Rice |   | 6 oz | 280 |
| Plain Fried Rice |   | 6 oz | 300 |
| Chicken Lo Mein |   | 6 oz | 350 |
| Shrimp Lo Mein |   | 6 oz | 290 |
| Vegetable Lo Mein |   | 6 oz | 320 |
| Eel Fried Rice | | 6 oz | 250 |
Drinks
Water is life. This is not a refutable fact. For that reason, it is the first and the best option when it comes to drink, especially if you are conscious of the calories in Chinese food you are taking.
Once ancient secret is taking water before an actual meal, since it effectively reduces the quantity of food that one can eat. Another reason why you should take plenty of water with Chinese foods is because the foods usually have high sodium content, which often cause unpleasant bloating.The caloric content of other drinks are as follows:
You can see that besides tea, other good alternatives when watching your caloric intake are hot tea and diet soft drink. Remember, a regular soft drink contains very high sugar content, and therefore, it is calorie dense. If the drink add the sugar, it will have high calories.
Dessert
When it comes to Chinese food, it is almost impossible to eat dessert without including rice and meat. Unfortunately, dessert is usually very light and it is easy to get carried away while eating, forgetting that it has quite high caloric content. When you enjoy the sugar, you will not be about to think about how caloric the delicious food is.
There is growing research evidence that excessive sugar intake can lead to obesity and the development of other chronic diseases.
Sugary food causes obesity mainly because it causes the pancreas to secrete too much insulin, and too much insulin will stay in the body to disrupt the body's blood sugar balance.
In China, Tian Dian (Chinese name is 甜点,甜品, which means dessert) is a very broad concept, roughly divided into sweet dim sum and Cantonese-style sugar water. It is generally not served as a main meal and is usually served as a snack for afternoon tea. But nowadays more and more people like to eat them when they are at work. It is regarded as a popular relax after hard work. Of course, more and more big Chinese companies provide free afternoon tea as employee welfare.
In any case, dessert is very delicious, but how much you eat in your daily life depends on you. We provide an easy chart to help you to make a good reference.
Snack
Chinese snacks are delicious small bites that often pack a lot of flavors and are incredibly popular in China and other parts of the world. These snacks range from savory to sweet and can be found in street markets, convenience stores, and restaurants all around the country.
They are made of wheat flour, sugar, eggs, vegetable oil, etc., and have different shapes and sizes according to different regions and seasons. These snacks are very popular and widely loved by people all over the country.
One of the most popular sweet snacks is tanghulu, which are skewers of sugared fruit. The most common fruits used are strawberries, grapes, and hawthorn berries, which are coated in a crispy, sweet shell.
Traditional Chinese pastries, such as mooncakes, pineapple cakes, and wife cakes, are also popular sweet Traditional Chinese pastries, such as mooncakes, pineapple cakes, and wife cakes, are also popular sweet snacks. Mooncakes are filled with sweet bean paste and are often eaten during the Mid-Autumn Festival, while pineapple cakes have a sweet pineapple filling and are a popular gift item.
When you live in China, you must find your favorite Chinese snack and can't stop to eat them. But make sure to control if it has high calories. You can follow our chart to choose.
Expert's Choice of Order
This is just but an example of two similar orders with distinctive caloric content that can show you the significant difference calories in Chinese food can make:
Option 1: Normal Dish
1 cup crispy fried chicken – 485 calories
1 cup fried rice – 350 calories
1 egg roll – 300-350 calories
3 oz milk shake- 115 calories
Option 2: Alternative Light version of the dish
1 cup chicken with broccoli -280 calories
1 cup white rice- 150 calories
1 mini-spring roll- 165 calories
Hot tea/diet soda/water- o calories
A quick evaluation of the two alternatives show that the calories in some Chinese foods are less, and by making good choices, you can have a wholesome and a delicious meal whose caloric content is in the range of 500 calories. If you want to keep a healthy life style, choose those Chinese food under 400 calories will be a good choice. You eat more, you will get more calories.
But for me, I will keep a short low calories period in my life. Then I will eat some of my favorite food but with high calories. After all, why do I keep fitness is want to eat more delicious food in my life. How about your choice? Please let me know.