Kung Pao sauce is one of the classics that has varied tastes depending on the Chef on the deck. Some variants of the sauce are spicy, while others are savory, or even sour. However, the hallmark of Kung Pao Sauce Recipe is one that delivers a combination of the flavors, and strikes a balance between sweet, spicy, savory and a hint of sour kick.
Once you master the art of making this sauce, then you can easily make a cheat stir fry meal without having to worry about the detailed and specific nature such recipes require in three simple steps:
Prepare Kung Pao Sauce
Cook either protein base or a vegetable to serve as the main ingredient
Once the protein or vegetable base is ready, top it off with kung pao recipe and mix properly.
Well, you must admit that is the easiest recipe you have ever seen on the internet. With that, you should bear in mind that king pao sauce can be a useful 'ingredient' in making several other dishes, including roasted vegetables.
Getting It Right with Kung Pao Sauce Recipe
The two critical ingredients in making a great kung pao sauce are Sichuan chili peppers and Sichuan peppercorns. While most recipes require that these two ingredients be ground or flaky, using the ingredients whole makes the sauce to have a unique fragrance. If you have ever opened a jar of fresh Sichuan peppercorns, then you can relate. It is one of the most fragrant intense spices, that can easily fill an auditorium upon opening the jar. The aroma slaps your nostrils delightfully leaving a tingly and minty scent lingering around your nose. If you have never had such an experience, trust me on this, you will not want the moment to pass.
Ordinarily, you can use different chili peppers to make any Sichuan food hot. In making a pot of chili, the first step involves combining different chilis proportionately to set the tone of the dish. These chilies are then heated to release the aroma before you finely grind them. That way, you get the most of out of the intense heat and aroma the chili has to offer. The same process applies when preparing chili sauce used in Kung Pao Sauce Recipe.
For this case, you toast the chili flakes and Sichuan peppercorns separately until they darken and fragrance. At that point, you can transfer them to an open dish to allow them to cool before grinding in a coffee grinder. Remember, these two spices lose their fragrance very fast, and therefore, you should prepare small batches you intend to use for a session.
Ingredients
3 ½ tablespoons of vegetable oil (or peanut oil)
2 tablespoon white sesame seeds
2 tablespoons Chinese or Korean chili flakes
1 teaspoon ground Sichuan peppercorn
10 cloves garlic, minced
2 ½ tablespoons minced ginger
Sauce Mixture
1/3 cup Chinkiang vinegar
¼ cup soy sauce, light
¼ cup dry sherry or Shaoxing wine
½ cup brown sugar
1 tablespoon cornstarch
¼ teaspoon fine sea salt
Instructions
Mix light soy sauce, Shaoxing wine, Chinkiang vinegar, cornstarch, salt and sugar in a small bowl until they mix uniformly and set aside.
Place a sauce pan on a stove and adjust the heat settings to medium. Add chili pepper flakes, peanut oil and sesame seeds. Stir the contents of the pan until they begin to gently sizzle. A few more minutes and the powder turn dark, and as the oil begin to sizzle fiercely, turn off the heat source.
Add garlic, ginger, and Sichuan peppercorns to the sauce pan, and stir for another 30 second, until it fragrances.
Stir the contents of the bowl in step 1 slowly to ensure a uniform mix is achieved and the cornstarch dissolves. Carefully transfer the content of the bowl to the saucepan while ensuring that oil does not spill. Stir continuously for a few more minutes until it thickens sufficiently. Remember, it will continue thickening as it cools down.
Enjoy
And that is the most basic yet effective Kung pao sauce recipe. You can try using different proportions of ingredients if you are not satisfied with the end result. Experiment and tweak it as many times as you can till you feel at home with the final product.
Kung Pao Sauce with Any Ingredients
Take for instance, if you want to prepare two servings, you can use either 8 cups of vegetables or 450 grams protein. Alternatively, you can choose to have a combination of 4 cups of vegetables with 220 grams of protein.
With that you will need 1/3 cup of homemade Kung Pao Sauce to top it off.
Selecting a Protein Base
Beef- If you decide to use beef, you should select either short ribs or flank steak which are thinly sliced into ¼ inch slices or cut to strips.
Chicken- Chicken breast or thighs are ideal; should be skinless and chopped to bite sized pieces.
The ideal pork cut is either tenderloin or belly, which has been thinly sliced to ¼ inch strips.
Shrimps- Peeled and deveined
Firm tofu chopped to bite sized pieces
Prepping the Protein
Preparing the beef mainly involves marinating it. If you are unfamiliar with the process, you can start with a tablespoon of peanut or vegetable oil, ¼ teaspoon of salt, 1 tablespoon of cornstarch, 1 tablespoon dark soy sauce and ½ tablespoon of rice wine. Mix these ingredients and mix with the diced beef evenly, and allow it to settle for at least 15 minutes.
Selecting the Vegetables
You can make a quick dinner using a single vegetable, though you can never go wrong by mixing it up.
Some Good Vegetable Sources to use include
Asparagus chopped to 1-inch pieces
Baby bok choy; tear of their leaves into halves or quarters along the length
Sliced or chopped bell peppers
Fresh broccoli, divided into small florets
Roasted brussels sprouts
Cauliflowers
Carrots
Celery
English cucumbers
Eggplants
Kale
Sliced onions
Zucchini
Armed with these vegetable and protein sources, you can prepare them using any technique and top it off with sauce prepared using the above kung pao sauce recipe.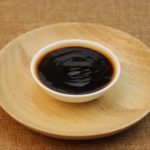 Print Recipe
Kung Pao Sauce