The warm mixed conch is cooked by conch, green pepper and other food production, and production difficulty is ordinary.
Conch meat plumps delicate, delicious taste, known as the "plate pearl" reputation. It is rich in protein eggs, vitamins and human essential amino acids and trace elements, is a typical high protein, low fat, high calcium natural animal food.
Seafood after a harsh winter storage, early spring season to eat seafood taste particularly delicious, but this time the temperature is not high, conch meat is a great cold material, so the best time to eat is around 35 degrees, so warm mix is more appropriate. Spring people after the Spring Festival eating and drinking, this time to dish cool and refreshing side dishes, decrease internal heat effect!
How To Make The Warm Mixed Conch Meat
Step 1
Clean the conch and steam for 10 minutes until cooked
Step 2
Peel off the shell and take out the conch
Step 3
Slice the conch meat and set aside
Step 4
Scrape the skin off the cucumber, beat flat diagonally cut into thick pieces into a small amount of salt mix well kill water
Step 5
Beat garlic flat chop into a bowl, add soy vinegar, sesame oil mustard oil mix well
Step 6
All processed ingredients into the container, scallion white sliced diagonally on the top
Step 7
Sprinkle with good garlic juice
Step 8
Mix well and serve the warm mixed conch meat.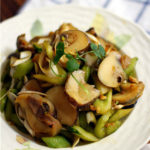 Print Recipe
the warm mixed conch meat
Equipment(affiliate link)