The spinach with vermicelli's main ingredients are vermicelli and spinach. It's easy to make and can be used as a home-cooked cold dish.
Spring, all things revive, and the human body is naturally in a "change" state. In spring, the body's metabolism speeds up and toxins hidden deep in the body are easily expelled. Winter is a time when the body stores energy, and some toxins from foods high in fat and sugar build up in the body. So, how to detox effectively in spring? We can detox through diet. For example, spinach, cucumber, bitter gourd, wax gourd, radish, mung bean, black fungus, kelp, honey, pig blood can be eaten in daily diet to stimulate gastrointestinal blood circulation, improve the food of digestive system to help liver, kidney and intestinal detoxification. Also should drink more water appropriately at the same time, assure toxin eduction smooth unobstructed. Secondly, to do more outdoor sports, such as jogging, walking, yoga, aerobics, jumping rope and so on.
How To Make The Best Dish Of Summer: Spinach With Vermicelli
Step 1
First boil some hot water in the pot and soak the vermicelli in the hot water. Don't boil the water until it feels slightly hot.
Step 2
Cut off the root of the spinach and wash well. This spinach doesn't look like much, but it tastes surprisingly sweet. Yes, it's sweet. Fresh hair is sweet.
Step 3
Bring to a boil and blanch the spinach.
Step 4
Blanch spinach, put them into cool and opened water, squeeze dry. If your spinach is large, cut it into sections.
Step 5
Cut dried vermicelli into sections and add spinach.
Step 6
Mix a bowl of sauce: cut garlic into a bowl, stir in chili oil, soy sauce, balsamic vinegar, sesame oil, salt. Stir well.
Step 7
Mix the sauce into the vermicelli
Step 8
Mix them well with chopsticks.And we can try the best cold dish of summer: spinach with vermicelli.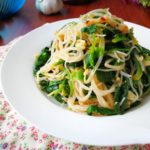 Print Recipe
the best dish of summer spinach with vermicelli
Ingredients(affiliate link)
 Accessories
Balsamic vinegar

Chilli oil