The sweet potato pie is a traditional local point, belonging to the department of Hunan cuisine. To sweet potato, flour, millet noodles, sugar, eggs, etc. (add as appropriate) from the production. Steam the sweet potato and peel off the skin. Put the sweet potato into the container and add 1/3 flour and millet noodles. Stir well and make a dough. Roll the dough into small groups, wrap into red bean paste, make into a cake and fry until done.
How To Make The Lovely Sweet Potato Pie
Step 1
Steam the sweet potatoes in a pressure cooker
Step 2
Mash steamed sweet potatoes with a spoon
Step 3
Knead dough until dough is firm
Step 4
Turn the dough into small balls and fry on one side. Turn it over and press gently with the spatula
Step 5
The oil in the pot should not be too hot, just a small fire, or it will easily scorch.
Let us try this lovely sweet potato pie.If you like them,you can share them with your friends and family.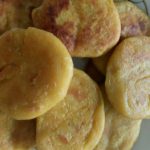 Print Recipe
The Lovely Sweet Potato Pie
Ingredients(affiliate link)
 Accessories