The sweet Chinese rice pudding, food of Han nationality, steamed sweet food with glutinous rice and bean paste, lard, sugar,jujube, lotus seed and other auxiliary materials. The addition of things, different regions will add different things. It is popular in all parts of the country, especially in south China.
How To Make The Sweet Chines Rice Pudding
Step 1
First soak the glutinous rice for a day.
Step 2
Cover the steamer with gauze and steam the soaked glutinous rice for 20 minutes.
Step 3
Break red dates in half, appropriate amount of medlar, shop in the bottom of the bowl.
Step 4
Pour the steamed glutinous rice into a large bowl and mix with two tablespoons of sugar. Stir well.
Step 5
Spread the glutinous rice on the bowl with a spoon. Cover the red dates and medlar tightly.
Step 6
Spread another layer of red bean paste evenly.
Step 7
Sprinkle with red dates.
Step 8
Spread the sticky rice and press it tightly. Steam for 20 minutes.
Step 9
The steamed rice pudding is placed inside the plate.
Let the dates and medlar go up,
Take 1 tablespoon sugar, 1/3 tablespoon starch, right amount of water, mix well, pot over low heat boil sugar thin, sprinkle sugar thin rice.
You can enjoy the sweet Chinese rice pudding with your family now.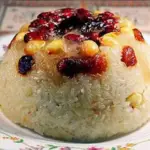 Print Recipe
The Sweet Chines Rice Pudding
Ingredients(affiliate link)