Rolling Donkey is one of the traditional snacks of old Beijing and Tianjin. It is named "donkey roll" because the soybean noodles scattered in the final production process look like the less raised by wild donkeys on the outskirts of old Beijing. It is also very convenient to use the bread machine to make donkey roll. By adding glutinous rice and water directly, you can make glutinous rice dough with great taste.
How To Make The Rolling Donkey
Step 1
Put glutinous rice flour into a basin, slowly pour water, while adding chopsticks to stir.
Step 2
Let it absorb water evenly and then knead it into a dough slowly by hand.
Step 3
Brush the container with oil. Place the dough into the container, press gently and steam over high heat for about 20 minutes. Cover the steamed glutinous rice flour with plastic wrap to prevent the surface from drying.
Step 4
Put the soybean flour into the pot without oil or water, keep stirring until the color becomes dark, and can smell the obvious flavor of beans, about 5 minutes, the Fried soybean flour cool and sieve for later use.
Step 5
Spread a layer of Fried soybean flour on the cutting board, put glutinous rice dough, spread another layer of soybean flour, roll the dough into a rectangle about 3cm thick.
Step 6
Spread the red bean paste evenly.
Step 7
Curl from the wide end. Make sure the roll is tight, leaving no gaps to avoid looseness.
Step 8
Use a sharp knife to cut the bean noodle roll into equal segments and sprinkle some more on the surface.Finally you get to the Rolling Donkey.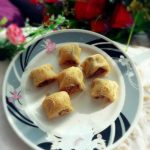 Print Recipe
Rolling Donkey
Equipment(affiliate link)
Ingredients(affiliate link)
Accessories
edible oil

200

g

red bean paste

80

g

cooked beans surface