The cute bookcase tofu box is a homely dish. The main ingredients are tofu and pork, wheat flour, starch (broad bean), seasoning is green onion. The dish is made by frying.And it is very easy to make, suitable for the green hand.
How To Make The Cute Bookcase Tofu Box
Step 1
Prepare the necessary ingredients.
Step 2
Cut the tofu into cubes 1 cm thick and 4 cm long.
Step 3
Green and red pepper diced.
Step 4
Dice ham, wash bean sprouts and set aside.
Step 5
Add the egg white, beef powder, soy sauce, salt and pepper into the meat mud
Step 6
Stir in one direction until stiff.
Step 7
Heat the pan with oil and add the tofu.
Step 8
Fry the tofu until golden brown. Remove it and use oil-absorbing sheet to absorb oil.
Step 9
Scalding leek leaves with boiling water until it gets soft.
Step 10
Take a piece of tofu, put the right amount of meat mud.
Step 11
Cover with a piece of tofu, tied with leek leaves.
Step 12
Make all the tofu boxes in turn.
Step 13
Heat up the wok with oil, add diced ham and bean sprouts and stir-fry until fragrant
Step 14
Bring stock to a boil and season with salt.
Step 15
Put in tofu box,bring to a boil,and then change to medium heat and simmer for 8 minutes.
Step 16
Put in diced green and red pepper.
Step 17
Thicken with starch.
Step 18
Sprinkle with black pepper and stir gently with a spatula.
Then you can put the cute bookcase tofu box in the plate.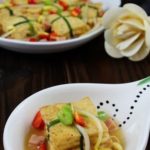 Print Recipe
The Cute Bookcase Tofu Box
Ingredients(affiliate link)