How to make pumpkin puree scrambled eggs
Step 1
Before making make pumpkin puree scrambled eggs,we should prepare two eggs
Step 2
A little pumpkin puree, a little spring onion
Step 3
Beat eggs well, add a little cooking wine and salt and then beat well.
Step 4
In a wok of hot oil, add pumpkin puree and fry
Step 5
Add a little salt to taste
Step 6
Pour in egg mixture and stir well. Just found that forgot to add green onion, quickly cut into the green onion
Step 7
Out of the pan, cut the egg when a little paste pan. The pumpkin puree scrambled eggs is done.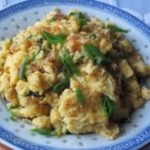 Print Recipe
Pumpkin puree scrambled eggs
Equipment(affiliate link)
Ingredients(affiliate link)
100

g

Pumpkin puree

2

eggs