Minnan mustard rice is a common traditional dish in Minnan. In southern Fujian, braised rice is usually eaten with beef or flat soup.It has a nice smell,and fried rice is my favorite.
How To Make The Traditional Name Point Minnan Mustard Rice
Step 1
Heat oil in a pan.Stir-fry pork belly
Step 2
Pour in shrimps, shellfish, soy sauce, rice and carrot
Step 3
Pour water over the ingredients
Step 4
Mustard and stir-fry until done
Step 5
Pour the mustard greens into the pan and stir well
Step 6
Pour into the pan and you're done with the traditional name point Minnan mustard rice.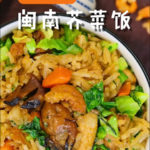 Print Recipe
The Traditional Name Point Minnan Mustard Rice