The stewed pork with dried bamboo shoots is a kind of home-made dish. The main raw materials are streaky pork, dried bamboo shoots and so on.
The dried bamboo shoots is made of bamboo shoot as raw material through many processes, such as shelling, root cutting, high-temperature cooking, water immersion and bleaching, manual slicing / pressing, natural drying / drying, shaping and packaging.It is yellow and bright in color, rich in protein, cellulose, amino acid and other microelements. They are low in fat, sugar and dietary fiber, which are helpful for eating and appetizing. It can increase appetite, prevent constipation, cool and poison. It is a pure natural healthy food welcomed by consumers.
How To Make The Stewed Pork with Dried Bamboo Shoots
Step 1
Wash and clean the streaky pork.
Step 2
Cut the streaky pork into thick slices.
Step 3
Dried bamboo shoots and fungus are soaked in advance.
Step 4
Cut the tender tips of bamboo shoots to the right size.
Step 5
Stir fry ginger and garlic in oil pot.
Step 6
When the meat is oily, add some soy sauce and stir fry.
Step 7
Add some water.
Step 8
Add dried bamboo shoots and fungus and bring to a boil.
Step 9
After boiling, transfer the ingredients to a casserole, add salt, soy sauce and ice sugar, and simmer for 1 hour.
Step 10
The stewed meat can be seasoned with chicken essence or not.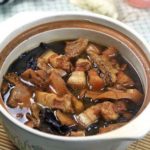 Print Recipe
The Stewed Pork with Dried Bamboo Shoots