The common homely stir fried fungus with Chinese yam is a family delicacy. The main ingredients are made of black fungus and Chinese yam.The biggest feature is that it can supply a large number of mucoprotein to the human body, which has a special health care effect on the human body. It can prevent the fat deposition of cardiovascular system, maintain the elasticity of blood vessels, prevent the early occurrence of atherosclerosis, reduce the subcutaneous fat deposition, and avoid obesity. Therefore, yam is a very ideal diet food. Yam for women, it contains enough fiber, after eating will produce a sense of fullness, so as to control the desire to eat, is a natural slimming food. Iron stick yam is the best of yam. Its taste and taste are better than ordinary yam
How To Make The Common Homely Stir Fried Fungus with Chinese Yam
Step 1
Soak the fungus and prepare other materials.
Step 2
Peel and slice the Chinese yam and carrot. Cut yam slices and soak them with water and vinegar to prevent oxidation.
Step 3
In the pot, add water to boil, and cook the yam slices, carrot slices, and dried fungus in turn.
Step 4
Stir fry ginger, yam and carrot for a while.
Step 5
Add the black fungus and stir fry well.
Step 6
Add some salt and seasoning with fresh sauce.
Step 7
Fried fungus with Chinese yam is done, out of the pot.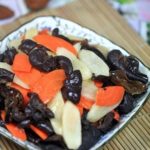 Print Recipe
The Common Homely Stir Fried Fungus with Chinese Yam
Ingredients(affiliate link)