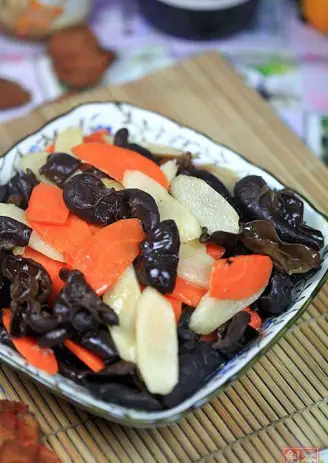 The common homely stir fried fungus with Chinese yam is a family delicacy. The main ingredients are made of black fungus and Chinese yam.The biggest feature is that it can supply a large number of mucoprotein to the human body, which has a special health care effect on the human body. It can prevent the fat deposition of cardiovascular system, maintain the elasticity of blood vessels, prevent the early occurrence of atherosclerosis, reduce the subcutaneous fat deposition, and avoid obesity. Therefore, yam is a very ideal diet food. Yam for women, it contains enough fiber, after eating will produce a sense of fullness, so as to control the desire to eat, is a natural slimming food. Iron stick yam is the best of yam. Its taste and taste are better than ordinary yam.
Yam contains amylase, polyphenol oxidase, and other substances, which are conducive to improving the digestion and absorption function of the spleen and stomach. It is a kind of medicinal food that soothes the spleen and stomach. Yam also contains saponins and mucus, which have the role of lubrication and moisturization. Therefore, it can benefit lung qi and lung Yin, and can be used to treat lung deficiency, cough, and other diseases. However, the saponins contained in the yam skin or the vegetable alkali contained in the mucus can cause yam allergy and itching in a few people. It is best to avoid direct contact when handling yams. The starch content in yam is high, which can cause a feeling of fullness in the chest and abdomen, dry stool, and constipation. Therefore, it is recommended to consume it in moderation.
How To Make The Common Homely Stir Fried Fungus with Chinese Yam
That day, I made my own yam stir-fried black fungus at home. My mother tasted a bite, let me open a shop in place, ha.​ It's not my cooking that tastes good, it's this dish, which is inherently delicious. It not only moistens the lungs and nourishes the stomach, but also solves the greasy.
Step 1
We put the bought fungus out, put it in a large basin, put a basin of water in the basin, add some flour, or you can also add some rice washing water, and then stir with your hand. After stirring, do not care about it, let it soak for a few minutes. After soaking, pour away the soaking water and rinse it with clean water.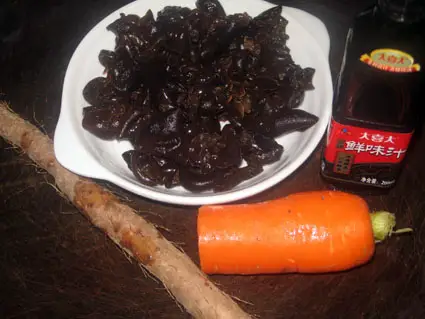 Step 2
Get the yams and the carrots. The carrots are still nice to peel, just peel them how you normally peel them, and then slice the carrots. But yams are more troublesome, because some people get itchy when they touch them. So be careful, when peeling the yams, put on a pair of disposable gloves, and then peel the yams. Then slice the yams and put the yams in a bowl with water and vinegar to prevent oxidation.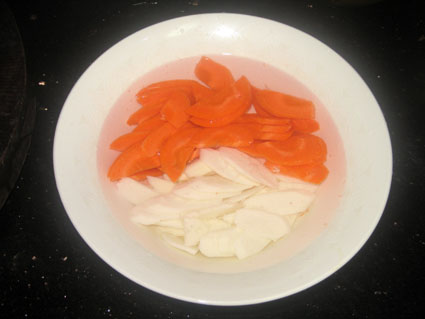 Step 3
We take the pot out, wash the pot with boiling water, then add water to the pot, turn on the heat, bring the water to a boil, then put the yams, carrots and fungus into the pot separately, and cook them one by one. Scoop them out and put them in a bowl to set aside.
Step 4
Take the ginger out and you can choose to peel it or not peel it, and I thought it would be cleaner to peel it, so I peeled it. Then crack the ginger. Then take out the cooked yams and carrots and stir fry them in a wok with chopped ginger.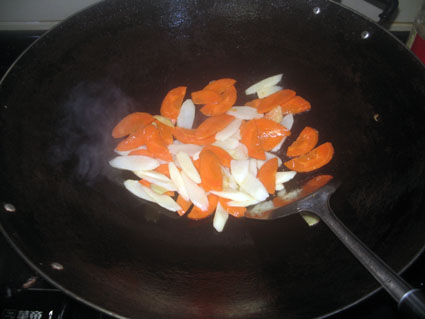 Step 5
We take out the black fungus, put it in the basin, connect it with water, add salt, soak the black fungus in salt water for a while, and then take it out and wash it. When the yams are almost brown, add the black fungus to the wok and stir with the yams.
Step 6
And then you add salt to the yams, and you add flavorings, which are used for flavor and freshness. When you add these things, your yam stir-fried fungus will be more flavorful and delicious.
Step 7
Then put the lid on the pot, let the yams and fungus stew for about a minute, and then open the lid. At this time, a thick smell wafted out. In this way, your yam stir-fry fungus is complete, come quickly to put it out of the pot!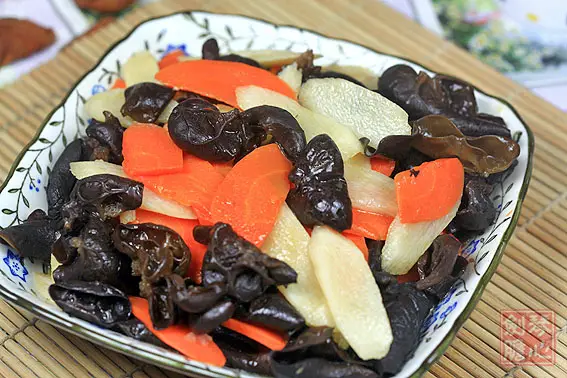 Will this dish impress your family with your cooking skills? I have to admit, it's pretty good. But as good as it is, some people can't eat it. Because some people eat yam or fungus will cause adverse reactions, so which specific people? That is, vacuous cold loose diarrhea should not be taken, otherwise it will aggravate abdominal pain, diarrhea and other gastrointestinal symptoms, which are not conducive to recovery of the disease. And yam stir-fried fungus must not be eaten with seafood at the same time, because most seafood is cold, and taking it at the same time will cause gastrointestinal discomfort.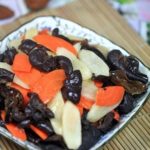 Print Recipe
The Common Homely Stir Fried Fungus with Chinese Yam
Ingredients(affiliate link)