The white turnip and tofu soup is a simple home-cooked dish.Spring radishes are rich in moisture and taste, making them a good choice for fillings, soups and raw foods. This soup not only can make intestines and stomach comfortable, still can prevent the popular cold that this season floods effectively. Cold in the spring when hot drink a bowl, hands and feet are followed warm.
As the saying goes, "bite the spring to bite the white radish", so at the beginning of this long season, hard bite on a delicious spring, a year's plan in spring, warm heart began to fight. Even we are busy,we should also want to remember the dream, and want to remember the next kitchen,and want to boil a pot for oneself and family with so pure turnip shredded soup.
How To Make The Simple White Turnip And Tofu Soup
Step 1
Peel and polish the white turnip
Step 2
Cut tofu into cubes
Step 3
Boil the water in the pot and put the radish shreds into the pot for 2 minutes
Step 4
Add the bean curd, salt, chicken powder and milk, stir well and cook for 15 seconds.So the white turnip and tofu soup is really easy to make and it is delicious.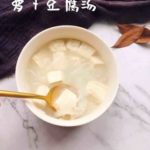 Print Recipe
The Simple White Turnip And Tofu Soup
Ingredients(affiliate link)
0.5

pcs

White Turnip

0.5

pcs

tofu
Accessories