The fresh and special lemon duck is a special dish in Wuming area of Nanning, Guangxi province. Lemon duck first appeared in the early 1980s. There is a small border called Jiepai on the edge of Nanning city. Beside the road, it is a famous dish with the development of the food business between drivers all the year round.
The main ingredients of lemon duck are sour pork, sour buckwheat head, sour ginger, sour pepper, shanhuangpi, especially the home pickled sour lemon. The older the lemon is, the more fragrant it will be. It will not go bad if it is put on for several years or even more than ten years. On the contrary, its aroma and taste will be more rich. These unique ingredients are indispensable and irreplaceable in the production of lemon duck.
How To Make The Fresh And Special Lemon Duck
Step 1
Cut the duck into pieces, put in cold water, add some ginger, cooking wine, froth, and take up the water to dry.
Step 2
Acid ginger and acid onion cut small, salty lemon cut, must remove the seeds, otherwise it will be bitter.
Step 3
Heat the oil in the pot, put the fat duck oil duck skin into the pot, then pour it into the duck meat and stir fry.
Step 4
After the surface of duck is yellowish, add onion acid and ginger acid, stir fry and stir fry. Then add soy sauce, soy sauce, sugar, salt, stir fry evenly.
Step 5
Add in the water over the duck and simmer. Stew until there is a little soup left. Be sure to turn it over every minute or two to make it taste better and prevent it from drying.
Step 6
When collecting the juice, stew it with Salted Lemon for 5 minutes, then add oyster sauce and water lake powder. You can leave a little more juice.Then you can share the fresh and special lemon duck with your family or friends.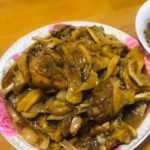 Print Recipe
The Fresh And Special Lemon Duck
Ingredients(affiliate link)
Accessories
1

Salted Lemon

acid chinic

acid ginger

Yellow peel sauce