The healthy sauteed red carrot with onion is a dish stir-fried with Onions and carrots. It's light and refreshing. In addition, Onions and carrots are the best vegetables, so that this dish is very rich in nutrition, health and health effects.This dish is very light, it is not suitable to add many condiments.
How To Make The Healthy Sauteed Red Carrot With Onion
Step 1
Peel the onion, wash and cut into thin shreds
Step 2
Slice the carrot
Step 3
Cut ham sausage into slices
Step 4
Put the oil in the pan, add the carrots and stir fry
Step 5
Add onion and salt and fry until done
Step 6
Add ham sausage and fry until done.And put the healthy sauteed red carrot with onion on the plate.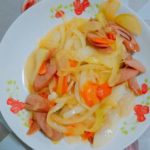 Print Recipe
The Healthy Sauteed Red Carrot With Onion
Equipment(affiliate link)
Ingredients(affiliate link)
Accessories