The garlic stir-fried lettuce is a healthy dish that we can make at home.The lettuce has always been the trump card of vegetables, beautiful color and taste crisp, is on the table a vegetable dish. Today share a garlic clove stir-fried wheat and vegetable, with the most simple way of seasoning, the taste is better than the restaurant. Nutritious food, pursue vegetarian food. Let's take a look.
How To Make The Garlic Stir-fried Lettuce Which Dissipates The Blood Stasis To Relieve Pain
Step 1
Dish up burning oil, saute garlic slices
Step 2
Pour in the lettuce and stir-fry until smooth.
Step 3
Add the salt into the dish
Step 4
Season with granulated sugar, stir fry quickly and evenly.And we can have the garlic stir-fried lettuce now.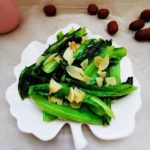 Print Recipe
The garlic stir-fried lactuca sativa
Equipment(affiliate link)
Ingredients(affiliate link)
Accessories