Hong Kong snacks have always been my favorite food. All kinds of points in the heart, the claws are every time I must point.Probably bone-loving people love this dish.The chicken claws are fried, soaked in seasoning, and then steamed. Delicious and soft. Take a sip of the bone and come out.Coupled with a lot of sauce seasoning, tooth-scented, can't help but one after another!
Next let me explain in detail the process of steamed chicken feet with black bean sauce in this Hong Kong-style snack of "millions of fans"!
How to Make Steamed Chicken Feet with Black Bean Sauce
Step 1
Clean the chicken feet and chop off the nails.
Step 2
Put an appropriate amount of hot water in the pot and boil on high heat. Put chicken feet and ginger slices in a pot for 3 minutes, then take it out, and dry it thoroughly.
Step 3
Split in half from the middle of the chicken feet. (This process can be completed before re-watering)
Step 4
Pour a sufficient amount of cooking oil into the pan and heat over medium heat until it is 80% hot. Put the chicken feet in low heat and fry until the skin color is golden (about 3 minutes), remove and drain. Oil standby.
Step 5
Soak fried chicken feet in ice cold water for 10 minutes
Step 6
Prepare seasonings for soaking chicken feet: salt, caster sugar, sesame oil, white pepper powder, black bean paste, garlic, soy sauce, dry starch and cooking wine
Step 7
After that, put the soaked chicken feet in the seasoning, and marinate for at least half an hour.
(The longer the soak time, the more flavor, I put it in the refrigerator overnight)
Step 8
Then put chicken feet in the steamer, move the small cage into the steamer, and steam over high heat for 30 minutes.
Such delicious steamed chicken feet with black bean sauce is complete.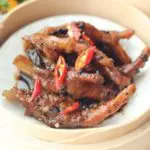 Print Recipe
Steamed Chicken Feet with Black Bean Sauce
Equipment(affiliate link)
Ingredients(affiliate link)