How to make Taiwan kimchi better. Many people like to eat Taiwan kimchi. But it doesn't seem to taste well. Let's take a look today.
How to Make Taiwan Kimchi
Step 1
After washing the cabbage, tear small pieces by hand.
Step 2
After adding the right amount of salt, grab the cabbage with your hands until it is soft, and then use cold water again to remove the salty taste (water should be drained)
Step 3
Marinate the cabbage and boil, then turns off the heat.Add the pepper flakes, garlic and sugar and vinegar and let it cool down naturally (I made it the night before);
Step 4
Finally, cabbage and pickles are mixed together, put in a jar or box, and refrigerated for about a day to taste.
Such delicious Taiwan kimchi is complete.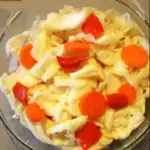 Print Recipe
Taiwan Kimchi
Equipment(affiliate link)