The Guiling jelly with honey is a kind of delicious food made of Guiling jelly powder.
How To Make The Guiling Jelly with Honey
Step 1
Prepare the ingredients and other tools: a large cooking pot, a stirring spoon, a leaky spoon, and several flat plates.
Step 2
Sift the powder of Guiling jelly with a small sieve spoon and add it into 250ml warm water to make it into a paste shape.
Step 3
The leaky spoon is to help the powder dissolve better. It doesn't matter. It's not easy to agglomerate if it's added several times in small amount.
Step 4
Check if there is any caking under it with a leaky spoon. If there is, lift it up and pour it with a stirring spoon to make it fully dissolved (the Guiling jelly made in this way will be more delicate).
Step 5
Well, that's what it looks like. Put it aside.
Step 6
In fact, when you make the paste of Guiling jelly, you can start to boil the water.
Step 7
Slowly pour the mixed paste into the pot. Stir while pouring, wait for it to boil again, turn off the fire (don't burn it too much at this time, or it will overflow the pot easily)
Step 8
Pour the cooked liquid into a flat plate (be careful of scalding) about 80% full.
Step 9
It is best to find a cover to cover it, so that the surface of Guiling jelly will not be too hard due to water loss.
Step 10
Stand still and let it cool and coagulate. Follow the dotted line as shown in the figure, about 2cm apart. Draw the knife horizontally and vertically.
Step 11
Pour it into the big bowl and assemble ~! In order for the Guiling jelly to swim, we need to pour in sugar water. Then you can put it in the fridge and chill it.
Step 12
Add honey to taste before eating ~! Come on, have a try right now.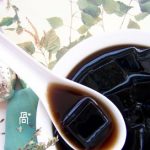 Print Recipe
The Guiling Jelly with Honey
Equipment(affiliate link)
a large cooking pot

a stirring spoon

a leaky spoon

several flat plates
Ingredients(affiliate link)
100

g

Guiling Jelly Powder

Honey