Sauce small potatoes is famous dish for the Northeast. Northeasters often use it for meals.How to make the sauce small potatoes. Many people like to eat the sauce small potatoes.But it does n't seem easy to succeed. Let's take a look today.
How to Make Sauce Small Potatoes
Step 1
Prepare small potatoes, peppers, pork belly and cowpeas;
Step 2
Cut the parsley into two pieces. Prepare onion segments, cinnamon, ginger, and anise;
Step 3
Prepare all kinds of seasonings;
Step 4
Heat the pan and add the shallot segments, pork belly slices, ginger slices, and star anise.Stir-fry for a while and add pork belly slices;
Step 5
Add the small potatoes and stir fry. Just see the potato chips wrinkle;
Step 6
Add soy sauce, small red pepper, thirteen incense, MSG, sugar, oyster sauce, red wine;
Step 7
Soy sauce should be immersed in potatoes (no need to add water);
Step 8
After the high heat is boiled, turn to low heat for 15 minutes and put in cowpea segments;
Step 9
Then add the coriander section;
Step 10
Finally, put the cut chili segments. After frying for 3 minutes, cover the pot and simmer for 15 minutes on low heat.
Such delicious sauce small potatoes is complete.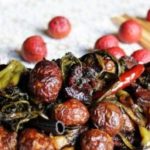 Print Recipe
Sauce Small Potatoes
Equipment(affiliate link)
Ingredients(affiliate link)
condiment
3

g

MSG

blend oil

red wine

3

g

thirteen fennel