Fried sweet potato is famous dish for the Northeast. Northeasters often use it for meals.How to make the fried sweet potato. Many people like to eat the fried sweet potato.But it does n't seem easy to succeed. Let's take a look today.
How to Make Fried Sweet Potato
Step 1
Wash the sweet potatoes.
Step 2
Peel the washed sweet potatoes.
Step 3
Cut the sweet potatoes into pieces.
Step 4
Put the oil in the pot.
Step 5
When the oil temperature changes to 70% hot, put in the sliced sweet potatoes and slowly fry until golden brown.
Step 6
Drain the fried sweet potatoes into oil and place on a plate.
Such delicious fried sweet potato is complete.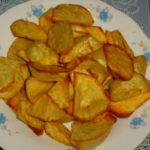 Print Recipe
Fried Sweet Potato
Equipment(affiliate link)
Ingredients(affiliate link)