How to make fragrant broad bean cake
Step 1
Before making fragrant broad bean cake,we should wash the broad beans.
Step 2
Remove the outer layer and rinse again.
Step 3
Steam the washed broad bean meat.
Step 4
Steam and puree the broad beans.
Step 5
Add salt.
Step 6
Add more butter.
Step 7
Stir well and put into the mold.
Step 8
Demould, successful.The fragrant broad bean cake is done.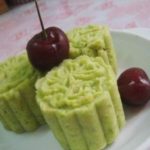 Print Recipe
Fragrant broad bean cake