"Recently, I felt dizzy from time to time and felt cold hands and feet. I suppose it was the sequelae left by the blood donation. Because I had some slight anemia, I took away so much blood all at once. So this for a while, eat the food that enrich blood raises blood to compare Doha, the drawer of the office also is putting red date, longan is dry and so on every day, eat a few from time to time, recuperate a body to start from bit by bit ~
The saliva pork liver, rich in trace elements of iron, is a commonly used food in blood-enriching food, edible pig liver can regulate and improve the physiological function of hematopoietic system in anemia patients; In addition, pig liver contains rich vitamin A, has to maintain the normal growth and reproductive function of the use, can protect the eyes, maintain normal vision, effectively prevent the eyes dry, fatigue; It's great food for the anaemic, short-sighted genie.
Dad heard that pork liver is good, get up in the morning to the supermarket, bought a piece of fresh pork liver back, I would like to cook soup to drink, but I recently owe the mouth, especially want to eat spicy, so decisively give up the idea of making soup, to a heavy taste:the saliva pork liver. Speaking of saliva dishes, it's traditional Sichuan dishes, belongs to the cold dishes of Sichuan cuisine, seasoning, rich set of spicy delicious, more famous a mouth-watering, saliva fish, saliva duck, I think as long as know the cooking method, it is a chicken, or meat, taste will not too bad, so elves have invented this a saliva pork liver.
This is really a quick dish, only need 3 steps, can be served, the sauce can also serve as adjusted according to their own taste, want hemp to spicy, you call the shots! When the genie brought it to the table, we were very curious and asked me what it was; motioned them to taste by themselves, hehe… God lets me eat more blood tonic, how to become everyone's favorite dish, said the elf did not eat enough, looks like tomorrow to come to a place again ~"
How to make the saliva pork liver
Step 1
Prepare fresh pork liver, soak it in water for 30 minutes, change water 2~3 times, soak bleeding water.
Step 2
Prepare cilantro and other side dishes. Wash the asphalt after all cut.
Step 3
Add water to the pot, add pork liver, cooking wine, pepper, Star Anise, fragrant leaves, shallot knot.
Step 4
After the fire boils, remove the blood foam, turn to medium heat and boil for 8 minutes, turn off the fire and simmer for 10 minutes. (the liver is difficult to check. Stick the chopstick in the thickest place. If there is no blood, it means it is cooked.)
Step 5
In a small bowl, add oil chili, pepper, salt, sugar, balsamic vinegar, light soy sauce, chicken powder and 2 tablespoons of cold water.
Step 6
Add garlic, ginger, chives and cilantro. Stir well to make a sauce.
Step 7
Remove liver, slice and place on plate.
Step 8
Drizzle with the sauce.
Step 9
Sprinkle with pre-crushed cooked peanuts and serve immediately.
Cooking techniques
1: The toxin in pig liver is more, so must bubble water before cooking, remember to change a few return water more.
2: Pork liver, does not be greedy tender, must be thoroughly cooked, justice can be at ease edible.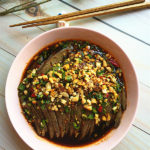 Print Recipe
The saliva pork liver
Equipment(affiliate link)