The first thing that comes to mind when one mentions Chinese food is the fast meal prep times associated with stir fries. All you have to do is use high heat settings, and get things done in a few minutes. However, you can slow things down in your kitchen by following the expertly written Chinese crockpot recipes.
Advantages of using crockpot recipes for slow cooking include the fact that it plays a significant role in tenderizing meat, more so your expensive cuts. Additionally, the process ensures that you get the best of the flavors offered by the meals. Combining crockpot with the perfect recipe turns a regular meal into a feast. Did you know that you can make substantial energy savings of up to 53% when you cook using crockpot rather than oven? For this reason, I am going to present to you a list of awesome Chinese crockpot recipes you must try before the year ends.
 Chinese Crockpot Beef And Broccoli Recipe
The list has to begin with China's favorite dish, Beef and Broccoli, and Yes, it can be slow cooked to give it a tantalizing infusion of tastes and flavors. Additionally, it is very easy to prepare. Once you have assembled all your ingredients, all you have to do is to place it in the crockpot and let it cook for 6 hours. Remember, for this recipe, you will be required to use boneless beef.
Ingredients
2 pounds beef (boneless) sliced into thin strips
½ cup beef broth
2 tablespoons sesame oil
½ cup soy sauce
¼ cup dark brown sugar
2 garlic cloves, finely diced or mortar-crushed
Frozen broccoli florets
Instruction
In a bowl, mix soy sauce, crushed garlic, soy sauce and sesame oil. Add the boneless beef slices to the crockpot and top it with the mixture of spices and the beef broth. Ensure they mix properly. Set the crockpot to low heat, and allow the beef to cook for 6 hours. The frozen broccoli florets should be added in the 5th hour.
If you want to thicken the soup, you can take 5 tablespoons of the soup to a different bowl. Add corn starch powder to the sauce, and mix thoroughly to form a thick consistency. Pour the contents of the bowl to the pot, and allow the food to simmer for another 30 minutes.
Finishing
Serve with white rice.
Hot And Sour Mushroom Soup
Soups form a core meal in Chinese cuisines. It is for this reason that there are several recipes for the same. However, this hot and sour soup is unique in a way, since it is fat free, and vegan friendly. This recipe is ideal for those who have fat and beef dietary restrictions, yet finding soup that consider their dietary requirements a daunting task.
Ingredients
10 pounds packaged sliced mushrooms
5 fresh shiitake mushrooms (caps sliced and stems removed)
5 ounces well drained bamboo shoots (julienned)
3 garlic cloves, finely crushed
15- ounce packet of silken tofu
3 tablespoons finely diced ginger
5 cups water
3 tablespoons soy sauce
1 teaspoon chili paste
1 tablespoon sesame oil
3 tablespoons vinegar (either rice wine or apple cider vinegar)
2 cups fresh peas
Instructions
Take the mushrooms, garlic and ginger, mushrooms, bamboo shoots and tofu and place them in an airtight container, after properly mixing. Store the container in a refrigerator.
To a crockpot set to low heat settings, add the contents of the container, and top it with the soy sauce, chili paste, vinegar, sesame oil and water. Stir to ensure uniform consistency of flavors. Cook it in low medium settings for 6 hours.
At the 6th hour, add the fresh peas and another 1 tablespoon of ginger, and stir properly. You can adjust the seasoning at this point, before allowing it to simmer for another 40 minutes.Serve while hot.
Cashew Chicken
Cashew chicken is a relatively rare delicacy found in China, and is not a commonplace in most restaurants. However, here is an opportunity for you to enjoy its magnificence at the comfort of your home. Basically, it is prepared using cashew chicken, which is the main ingredient. Give it a try, and you will thank yourself for making that decision.
Ingredients
1 ½ pounds boneless chicken (skinless chicken breast is preferable)
2 tablespoons cornstarch powder
1 tablespoon canola oil
½ cup soy sauce
1 tablespoon brown sugar
¼ tablespoon red pepper flakes
2 tablespoons finely ground garlic and ginger
3 tablespoons rice wine vinegar
½ cup cashew nuts
Instructions
Mix pepper flakes and cornstarch powder in a zip-lock bag. Add the chicken pieces and toss it to ensure that it coats properly. Leave the contents of the bag for an hour.
Heat oil in a skillet in with medium heat settings. Add the chicken and stir continuously to ensure it get a brown even tone, after which you transfer to the crockpot. Add vinegar, soy sauce, sugar, crushed garlic and ginger, the remaining red pepper flakes and top it off with the cashews. Stir the content of the crockpot till you achieve a uniform mix, and let it cook for 4 hours.
Mongolian Beef
Unknown to many, Mongolian beef is one of the easiest Chinese crockpot recipes. The recipe prepared from Allrecipes, makes it even easier. All you need is a few ingredients to make a palatable meal, which you can serve with rice or noodles.
During preparation, you can opt to pan-fry the beef on a pan to give it a crispy crust, which makes the dish even better, especially when compared to what is offered in most restaurants.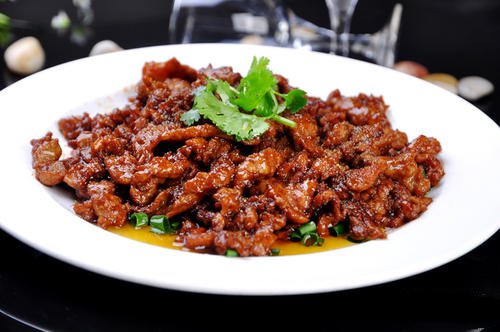 Ingredients
2 pounds flank steak (chopped into bite-sized portions)
¼ cup cornstarch powder
1 tablespoon olive oil
2 tablespoons of crushed garlic and ginger
3 large onions (finley diced)
¼ cup soy sauce
¼ cup hoisin sauce
2 tablespoons brown sugar
½ cup water
Instructions
Place the cornstarch powder and chopped flank steak pieces to a resealable plastic bag. Mix the two and let them rest for 10 minutes.
Add the olive oil to a skillet over a low-medium heat setting. Once the oil is heated, put the meat pieces and stir continuously until it turns brown. That should take about 5 minutes.
Put the remaining ingredients to a crockpot, and add the contents of the skillet. Stir, cover and allow it to cook on low heat for 4 hours.
Cook's Additional Notes
From the above recipes, you must have realized why some people choose to cook using crockpots. It is convenient, and you can wait for your meal to be ready while doing other things, uninterrupted.
Also, it is noteworthy that the ingredients for the Chinese crockpot recipes can be adjusted accordingly to give a variety of tests and flavors. You can experiment with a few other spices and condiments you usually use for your daily meal preparation.