"Your food is only a phone call away," has become a common phrase as more restaurants increase their varieties of healthy Chinese food options take out. With the increasing variety with each passing day, it is agreeable that this is the best time to be alive. It is incredible how you can order any food, and you get it within minutes at the comfort of your living room. A China's all time is Jimmy John's food delivery, which has stayed true to their slogan, "Freaky fast, freaky good," as they deliver food in as little as 12 minutes. The main problem is; they only have fast food.
However, most people, natives, and visitors alike, face challenges when it comes to selecting healthy Chinese takeout food. And that is the danger of getting over reliant on fast foods, the day you will think of ordering a healthy meal for a friend is the day you will realize you need to re-evaluate your life choices. Lucky for you, this article is going to provide a short list of healthy Chinese takeout food options. Save the page for the next time you set your health resolutions, or the day a strict dietitian visits you-whichever comes first.
Anything Steamed = Healthy Chinese Food Options Take Out
The first step at a healthy diet should aim at cutting down oil consumption. For this reason, any steamed food should be your best friend. Steamed food is good since the cooking technique preserves most of the nutrients which you would ordinarily loose during meal preparation.
Additionally, these foods usually have fewer calories- a bonus if you are working on your fitness levels. Common steamed foods include vegetables, lean beef, pork, whole fish and other sea foods. Did you know that you can steam rice?
Shrimp and Vegetables
Shrimp is a complete meal with a proper nutrient balance. It is arguably one of the most Nutrition-dense sea foods with moderate caloric content.  Shrimp is a lean protein source. Additionally, the meal is rich in fiber and antioxidants from the vegetables. It also comes with black beans sauce, which gives it an intense flavor.
Moo Shu Vegetables
The dish is synonymous with many dietitians and fitness enthusiasts. Essentially, the dish is a mixture of vegetables such as mushrooms, bamboo shoots, water chestnuts, and cabbages. Depending on the restaurants and the options in the menu, you can get up to five different vegetables, and comes with diced eggs. It is usually topped with scallions, ginger, and garlic to give it a remarkable flavor.
Serve the dish with pancakes wrapping; not that it is a must you wrap. You can take it as you best see it fit. A good thing about the dish is that it has low carbohydrate content. Substitute the pancake with lettuce rolls to get one of the healthiest Chinese take-out foods. For those with diabetes, try this an see your sugar level remain stable as you munch.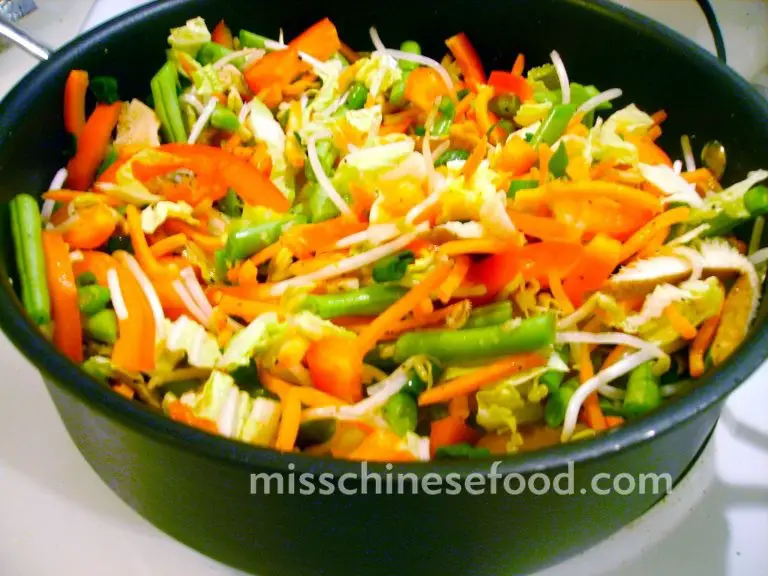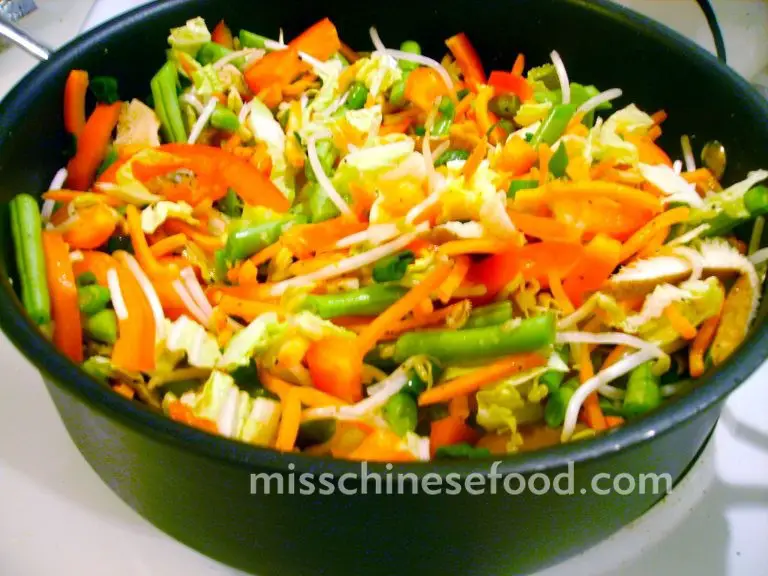 Chinese Beef and Broccoli Recipe
If you have ever tried beef and broccoli, then you are aware of its filling capabilities. Word of advice, if you are going on a date, you can as well skip this meal since you will require an entire day to clear the meal. The filling capability is also a good thing since it will regulate how much you can eat- the perfect choice for those watching their weight.
The complete meal features moderately sized strips of carrot and broccoli underlain with brown rice, and topped with any sauce of your choice. A taste this meal when properly made, is all you need to make it a staple take out dish, especially if the beef was well seasoned.
Chinese Brown Rice with Scrambled Eggs
Swap your usual fried rice with brown rice and serve it with scrambled eggs from your favorite restaurant. Most restaurants in China serve their scrambled eggs with fried rice. However, you can tweak the order with brown rice to make it one of the best rated healthy Chinese food options take out. That is because brown rice is usually gentle on insulin spikes. Additionally, steaming rice lowers the total oil content in the dish, which is healthy.
Buddha's Delight (A Healthy Chinese Food Options Take Out for Vegetarians)
The dish is a native Chinese and Buddhist cuisine. The meal gives you a taste of what you are missing by not being a monk; since monks were the first people to prepared it. However, presently, it is served in most parts of the
world. It comes with a vegetarian option, which consists of a mixture of steamed vegetables prepared in a soy-based sauce. Worth noting is the fact that it includes sea foods or eggs depending on customers' preference.
Chinese Chicken Lettuce Wraps
The fact that you have chosen to explore healthy Chinese food options take out, it doesn't mean that you will die eating boring food. If this is what is running in your mind, say hello to chicken lettuce wraps. Seriously this food yummy. The chicken fillings specially prepared with Asian inspired flavors make it a hard to beat delicacy. Add to this the crunchy chestnut, and you have with you the best appetizer you can ever get in China. However, you can also take it as a main meal.
Chinese Tofu or Shrimp Entrees
Tofu or shrimp entrees are perfect for those days when you don't feel like having pan-fried vegetable dumplings or eggplants. Steamed shrimp is an excellent way to get lean protein in a lean meal. If you are vegetarian, you can have tofu as an entrée.
Tips to Get the Most Out of A Healthy Chinese Food Options Take Out
Knowing the healthy Chinese food options take out means you have won half the battle. It is up to you to ensure that the food is indeed healthy. What this means is that you can get the healthiest food, which may be on the list or not; but how is prepared is questionable. A classic example is you can get rice served with scrambled eggs, cooked with excess oil. Another example is taking food prepared with excess artificial inorganic spices, which contain a lot of chemicals.
Lastly, a healthy diet begins with you. Even if you take a healthy Chinese takeout food, and you consume excess calorie dense food, do you think that is still healthy eating?