Recently, from time to time I can feel dizzy, cold hands and feet feeling, estimated or before the blood donation, because there is some slight anemia itself, and suddenly took away so much blood, not a day or two can fill back. So this for a while, I eat the food that enriches blood raises blood,and the drawer of the office also is put the red date everyday.As we all know,recuperate a body should start with bit by bit ~
The saliva pork liver is really a fast food, only need 3 steps, can be served on the table, sauce seasoning can be adjusted according to their own taste, want to spicy ma, you decide! Elves end on the table, our family are very curious, asked me what is the dish; Motioned to them to taste, hey…They let me eat more blood, how to become everyone like the food, elves said not enough to eat, it seems that tomorrow will also come to a plate.
How To Make The Saliva Pork Liver
Step 1
Prepare fresh pork liver and soak it in water for 30 minutes. Change the water for 2-3 times to soak the bleeding water
Step 2
Prepare parsley and other side dishes. Wash all asphalt after cutting.
Step 3
Add water, pork liver, cooking wine, Sichuan peppercorns, star anise, bay leaf and chives.
Step 4
After the fire boils, fish the blood foam, turn to a small fire and cook for about 8 minutes, then turn off the fire and simmer for 10 minutes. (please insert the thickest part of the liver with your chopsticks. If there is no blood, it means it is cooked.)
Step 5
In a small bowl, add chilli, pepper, salt, sugar, vinegar, soy sauce, chicken powder and 2 tablespoons cold water.
Step 6
Add garlic, ginger, chives and cilantro. Stir well.
Step 7
Remove liver, slice and place on plate.
Step 8
Drizzle with sauce.
Step 9
Sprinkle with pre-crushed cooked peanuts and serve the saliva pork liver.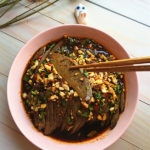 Print Recipe
the saliva pork liver
Ingredients(affiliate link)
 Accessories
anise

geranyl

Chinese prickly ash

Chilli oil

Balsamic vinegar

Cooked chopped peanuts