While the onset of winter season spells doom to most people, there is always a silver lining to them who know the art of living; It marks the beginning of Chinese hot pot season. It is a time to explore a variety of recipes in making the dish in preparation for the hallmark of Chinese festivals- The New Year celebrations.
Hot Pot Cooking Equipment
Having the proper equipment goes a long way in making your work easier. You need to have an electric plate, wide pot, scoop, steel strainer, and long chopsticks. If you opt to prepare two different soup flavors at a go, equipping yourself with the fancy-looking ying yang pots goes a long way.
What Ingredients Go To The Chinese Hot Pot?
The possible ingredient combination for a Chinese hot pot meal is limitless. The more diverse it is, the better the outcome. However, the fundamentals that you cannot do without are a protein and vegetable source. Normally, the protein food, be it meat of seafood is the main centerpiece of the meal. However, the inclusion of vegetables to the dish makes it a notch better. And isn't there a better way for trick vegetarians to partake an omnivore feast? For instance, preparing a dish to serve five people, having three meat sources two types of greens and four non-conventional greens as highlighted below is ideal.
Meat and Sea Food
Animal protein ideas include sliced fish fillets, finely sliced pork, lamb or beef, fresh oysters, tripe, spam, etc. It is important to remember that any meat is hot-pot viable provided it is cut into thin slices. For the sake of everyone, if you are not an expert in slicing the beef- which is virtually everyone- kindly don't force yourself as your invitees to the meal will hate you. That is because chunky pieces take forever to cook. Who wants to be a spectator while everyone else is enjoying? It is one of the least rewarding experiences in life. So, to save you from embarrassment, just walk to the nearest Asian supermarket and pick pre-sliced pieces of meat.
Vegetables
Includes green and yellow peppers, Napa Cabbages, green lettuce, Chinese spinach, Brussel sprouts, carrots, broccoli, young corn, etc. Most people use vegetable sources that retain their texture even after they have been dipped in a pot of hot broth, but that is just a matter of preference.
Other Random Additives
Supplementary ingredients that you can use depending on your liking include soybean products and tofu, mushrooms, noodles and dumplings, bamboo shoots, and sliced seaweeds. Mushrooms is of particular interest to most people- especially those who may be unable to contain their craving at the sight of a simmering Chinese hot pot. That is because there are certain varieties such as the Enoki mushroom which require as little as 20 seconds to be ready. Basically, that is- you just dip them in the pot, blink twice, and voila- you are ready to feast.
Dipping Sauce for Chinese Hot Pot
Just like in the preparation of salsa, you can make your dipping sauce with different combinations of ingredients at varying proportions till you get one that tickles your fancy.  Some common ingredients used to make Sichuan hot pot dipping include:
Sacha sauce
Chili oil
Rice vinegar
Sesame oil or seeds
Sesame peanut butter
Peanuts
Garlic
Cilantro
Prepare the dipping sauce by combining equal portions of sesame peanut butter and Sacha. Other ingredients are then blended on a need basis to tweak the flavor. You can add chili oil, soy sauce, chopped cilantro and garlic in any desired proportions. Here your creativity will go a long way.
However, to save yourself from all this hustle, you can opt to purchase ready-made sauce which is available in most Asian grocery stores.  In such a case, the sesame-based sauce is usually the default option for most individuals. Other sauces that are tasty Chinese hot pot accompaniments are shacha sauce, which is an excellent choice for seafood and garlic sesame oil.
Preparation of Chinese Hot Pot
Assemble the hot pot by connecting the electric plate and adjust the heat to a medium boil. Place the broth pot on top, and when it nears boiling, set the electric plate to a low boil temperature. At that point, you can add your ingredients to the pot, while simultaneously preparing your dipping sauce.
Once the Chinese hot pot is ready, each person will add anything they want to the sauce be it vegetables or sliced beef and give it a few minutes to cook, after which they will be removed using a strain or a wire skimmer.
Since Sichuan hot pot is a personal favorite for most people and is arguably the best-tasting Chinese hot pot dish, here is a stepwise preparation procedure.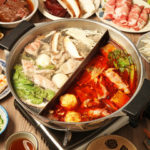 Print Recipe
Sichuan Hot Pot Recipe
The dish is intended for a 16-inch hot pot, and will comfortably serve 6 people to their fill. By the time you finish cooking, you should have 18 cups of equal proportions of both spicy and mild soup, and an additional 3 cups which can serve as stock for topping up.
Ingredients(affiliate link)
Top-off broth
2

quartz boxed

chicken stock

maintained at simmering temperatures
Instructions
Add peanut oil to the pot and adjust heat to medium flame. Once the oil heats up, add ginger, mixed spice powder, scallions, cardamom, and cumin. Stir the contents continuously until they produce a fragrance. Add chili bean paste and ground chili and stir for five minutes, after which you pour the stock and continue heating it until it boils. You can then opt to add sugar, Allow the mixture to simmer for at least thirty minutes. (Meanwhile, you should be preparing other hot-pot ingredients).

Prepare the foods you intend to cook while following the guidelines provided in the first section of this article.

Get the condiments ready. Grind the garlic and scallions; mix the sesame paste with sesame oil to give it a smooth consistency. These ingredients should be added on the other side of the hot pot to make the mild soup. To the mixture, add the chicken stock and bring it to boil. Top it with wine and the finely diced tomato.

Run the strainer through the spicy soup to remove larger ingredients.

The remaining chicken stock should be heated to boil in a separate pot and covered while warm.

Add 1 cup cooking oil to a clean pan and heat it using low heat. Add the whole chili and gently stir till they sizzle. Pour the content of the pan to the spicy mix.

Adjust the heat in the electric hot pot for a few minutes to allow the two soups to boil. Adjust the temperature to ensure the soups are just within simmering temperatures while adding food types a few at a time. For efficiency, you can dip them using strainers or chopsticks so that they do not disappear in the soup.
Nutrition Facts
Sichuan Hot Pot Recipe
Amount Per Serving
Calories 200
* Percent Daily Values are based on a 2000 calorie diet.
FINAL THOUGHT
Thank you for taking the time to read the recipe, and I hope that you have learned one or two things you will try the next time you prepare Chinese hot pot.  Feel free to post any questions, thoughts, or ideas in the comment section below. Happy Partying, or should I say, happy hot potting!