When hungry and in need of quick and easy to fix recipe, Chinese Chicken Chow Mein is what you need. Unlike ordering in from your favorite Chinese restaurant, less time is used to prepare this superb recipe at the comfort of your home. You all have to agree that ordering in sometimes takes ages to be delivered due to time underestimation by the restaurant management. It is for that reason that the following easy and fast Chinese chicken chow mein recipes have been specially created for you.
Advantages of Chinese Chicken Chow Mein Recipes
The recipes have a cooking period less than 30 minutes.
The resulting meal is less greasy compared to take out.
The food is balanced as it contains carbohydrates, proteins and vegetables.
The main ingredients are chicken, vegetables, seasoning and chow mein noodles which are readily available.
Health Benefits of Chinese Chicken Chow Mein
With the rise in heart and general health conditions, it is vital that the food you eat is healthy. This recipes are prepared by boiling and stir-frying. This process of cooking ensures controlled amounts of cholesterol going into the body which in turn fosters good health.
Another health benefit comes in the form of the many vegetables used as ingredients in the Chinese chicken chow mein recipes. Depending on the ingredients and vegetables you enjoy most, you can add them in large amounts hence add to the benefits you stand to gain. The chicken provides lean proteins that are good for your health too. Eating this easy and quickly prepared Chicken Chow Mein is therefore pretty beneficial to your health and not just delicious.
How to Cook Chinese Chicken Chow Mein
The preparation of this meal is easy and fast. It requires that you have your ingredients ready before you start cooking due to the quickness in which the process ends. As earlier mentioned, boiling and stir frying is how you bring this meal to readiness. The stir-frying part is especially quick thus the need to have all your ingredients ready before beginning.
What You Will Need
The list of kitchen apparatus you will require is as here below:
Apparatus
Cooking pot
Wok or skillet
Knife
Tea and table spoons
Wooden cooking stick
Ingredients
Boneless skinless chicken breasts that are evenly sliced.
Chow mein noodles
3 cups thinly sliced cabbage (red or green)
A cup thinly sliced carrot
½ a cup chopped green onions
2 tablespoonsful vegetable cooking oil
2 tablespoonsful crushed ginger
2 tablespoonsful crushed garlic cloves
1 tablespoonful oyster sauce (add more if need be)
4 tablespoonsful of low-sodium soy sauce
1 tablespoonful sesame oil
1 tablespoonful granulated sugar
Pinch of salt
¼ teaspoon white pepper to taste(optional)
Preparation
It is important to note the breakdown of how long the whole preparation process takes. Ideally, most preparations of Chinese chicken mein recipes require about 15 minutes, cooking time about 15 more minutes. This is an over estimated time breakdown you might require to get you meal all set and ready to chow down. Depending on how quickly your hands work, the process can be done within 20-30 minutes.
Chicken Preparation
For this Chinese Chicken Recipe, 1inch chicken breast chunks are recommended. Slice your chicken to this recommended size. If unavailable, chicken thighs will do just fine. When cooked, the density of chicken tends to rise. For them to be more tender, mix the raw chicken with ½ a teaspoon of baking soda. It should then be left to sit for up to 15 minutes before rinsing it and patting it dry with towels. The chicken you cook will be very different and tenderly so unlike without adding baking soda.
Veggies Preparation
For all the vegetables you have, slice thinly so that they can be better mixed with your pasta. With the thin slices, cooking and eating also become an easy task. Remember to wash your vegetables thoroughly under running tap water so as to get rid of all dirt particles.
Noodles Preparation
Place you cooking pot on your source of heat and bring at least 6 glasses of water to boil. Add your chow mein as instructed on the package. For dried noodles it takes up to 9 minutes for them to be all dente. If freshly made, they are ready in 5 minutes. Once cooked, drain and rinse under cold running water. Set aside while the meat cooks.
Sauce Preparation
Take all your sauce ingredients and mix them all together. For those who don't enjoy the oyster taste, substitute it with homemade sauce. Back to those using oyster sauce, it is readily available in any walk in Asian supermarket, but if you fail to find it there, buy on Amazon. It is slightly more expensive there but worth every dime.
Cooking
Cooking your chicken together with vegetables is a recipe for disaster. This is because, chicken cooked on its own releases liquid. Adding the vegetables liquid is sure to result in a soggy chow mein which I guarantee you, nobody wants. Therefore, cook the chicken alone for about 5 minutes until light brown. Dish aside and cook the vegetables.
By this time, your skillet is very hot and takes only a few minutes to cook the vegetables. Once you add vegetables, you Chinese Chicken Chow Mein is now almost ready. Once the vegetables are ready, add back the chicken. Next put in the noodles and sauce. Your meal now just requires to be tossed together for it to be ready to eat. What are you waiting for? Toss everything together and enjoy your very own homemade Chinese Chicken Chow Mein.
Additional Recipe Notes
Where noodles are not available, 8 oz dry spaghetti (regular or thin) will also work. As earlier mentioned, in the absence of the recommended chicken breasts, chicken thighs will work great. They will however need a little bit more time to get well cooked. Another alternative of oyster sauce is homemade hoisin sauce. The flavours are sure to be different but you are likely to enjoy both dishes with utmost zest either way.
Final Words
Chinese chicken chow mein recipes provide a guide for cooking some of the best meals after a long busy day with very few minutes to spare. The time taken is minimal while the quality of the meal remains uncompromised. The great thing about preparing your own meal is that you make little twerks to the recipe hence adding a personal touch.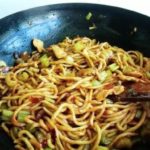 Print Recipe
Chinese Chicken Chow Mein Recipes
Equipment(affiliate link)
Cooking pot

Wooden cooking stick
Ingredients(affiliate link)
Boneless skinless chicken breasts that are
evenly sliced

Chow mein noodles

3

cup

Thinly sliced cabbage

red or green

1

cup

Thinly sliced carrot

½

cup

Chopped green onions

2

tablespoonsful

egetable cooking oil

2

tablespoonsful

crushed ginger

2

tablespoonsful

crushed garlic cloves

1

tablespoonsful

oyster sauce

add more if need be

4

tablespoonsful

low-sodium soy sauce

1

tablespoonsful

sesame oil

1

tablespoonsful

granulated sugar

Pinch of salt

¼

teaspoon

white pepper to taste

optional