Let's face it; nothing hits home like a plate of well-cooked Chinese pork stew on a cold evening. Considering that the first thing that comes to mind when you mention pork is grilling or Sautéing, you can leave a lasting impression to your family by surprising them with an excellently prepared Chinese pork stew. It is one of the indigenous dishes that has been gaining popularity recently since it gives a lot of room for experimenting with different ingredients. Additionally, it is relatively easy to prepare, and you can play around with different flavors to get the ultimate dish that will keep your guests coming back for more.
Ingredients
Pork belly
Carrots
Pineapple
White onions
Ginger
Garlic
Chili
Red and green bell peppers
Soy sauce (both light and dark)
Chicken stock
Asian stew seasoning
Getting Started
It is not a brainier that the main ingredient in making this dish is pork. While it may seem pretty obvious, knowing your cuts goes a long way in ensuring the cooking technique you adopt is a success. Just for your information, the main pork parts are pork belly, shoulders, chops, sirloin, and ribs. Making an excellent Chinese pork stew requires pork belly with skin.
You also need to prepare your ingredients. Carrots, red and green bell pepper, ginger, garlic, white onion, chili, and any other ingredient should be washed and cut in separate bowls.
Remember, as a rule of thumb, those with intense tastes and flavors should be cut into fine slices and crushed if possible- by this, I am specifically referring to ginger and garlic. Chewing a sizeable piece of such ingredients is usually a nasty experience.
If it is possible, get the pork belly with skin. Most people are yet to discover that it is indeed the skin which contains the pork taste. Dice the pork belly in sizeable portions. Don't cut them too small since they tend to shrink during the cooking process.
Lastly, you should ensure that the pineapple is ripe. To get a variant taste, you should have slices from both the sweet and the sour part. Although some people may opt to use only the sweet part, the sour part greatly enhances the taste of the meal especially if you do not plan to add condiments such as vinegar.
Preparing Chinese Pork Stew
Season the pork with kosher salt and ground black pepper. Alternatively, you can choose to give it a light boil, 4 minutes at most, with a mix of the ingredients to allow the pork to absorb the flavors faster.
Add olive oil, or any other regular cooking oil to a medium-sized woke pan, preferably with a broad base, and set the heat to medium and the chopped pork pieces to the pan. Stir the contents of the pan regularly to prevent it from sticking on the pan. You should continue to stir until it turns brown. At that point, you can set it aside to cool.
Place another cooking pot on the electric plate, add 3 tablespoons of cooking oil and allow it to heat using moderate heat settings. Add the finely chopped white onion to the pot, and follow it with chopped carrots. Stir continuously under the moderate heat conditions, till the white onions begin to turn brown. On top of the mix, add pork but do not stir. At this point, you should adjust the heat to the lowest temperature.  Top it off with garlic and crushed ginger, ensure that you sprinkle it evenly to allow the pork to have equal flavor concentration.
Next, take the pineapple, and core it (make it to a cylindrical shape about the size of a tomato).
Cut the cored pineapple to medium sizes. Ideally, they should be much smaller than the chopped pork, more so if you particularly want a distinctive taste from the pineapples.
Add the chopped green and red bell peppers to the cooking pot, and follow it closely with the pineapple slices.
Flavoring
To give the dish a Chinese flavor, you will need to have soy sauce, fish sauce, teriyaki sauce, honey, gravy master, and sesame oil.
If it is your first time attempting this type of flavoring, you can consider mixing them in the following proportions:
½ cup of teriyaki sauce
½ cup of soy sauce
3 tablespoons of honey
1 tablespoon of fish sauce
1 tablespoon of sesame oil.
However, you can adjust the proportions to tweak the flavor to your liking, more so if you have ever used some of these ingredients.
To top it off, you can add any remaining pineapple juice to the flavor solution. Whisk it for several minutes to ensure proper mixing. It is essential to ensure that the honey does not settle at the bottom, as you may risk having a portion of your Chinese pork stew being too sweet.
Pour the mix into the slow cooker and gently stir to prevent crushing the pineapple slices. Immediately after pouring the mix, you can add a little chicken stock, light soy sauce and dark soy sauce. At this point, you can increase the temperature to allow the contents of the pot to simmer.
Cook's Expert tips on Improving the Chinese Pork Stew
You are likely to notice that the thickness of your soup will not be to your liking. Don't panic or drain it off. Instead, follow this simple procedure to thicken it:
On a different pan, melt three tablespoons of butter over low or medium heat settings. To the pan, add ¼ cup of whisked wheat flour, and stir it slowly until it changes color to light brown. Watch it closely, since the mixture may easily burn.
Alternatively, you can opt to use a good corn starch slurry to make a thick gravy.
Add the content of the pan to the pot of simmering pot, while stirring and observing the changes in soup consistency. Cover the pot and allow it to boil for a few minutes until the pork is tender.
Finishing
You have your hot Chinese pork stew. You can garnish it with black pepper, or crushed red paper flakes.
Serve it with white rice and stir vegetables.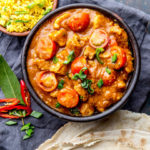 Print Recipe
Chinese Pork Stew (With pineapple infusion)
A Chinese pork stew with pineapple infusion gives a new meaning to the regular pork stew you have tasted. The meal has been using readily available ingredients to give an out-of-this world taste.
Ingredients(affiliate link)
2

Pounds

Pork belly with skin

1

large

White onion

2

carrots

1

pineapple

peeled and cored

1

tablespoon

crushed ginger

1

tablespoon

crushed garlic

1/2

cup

teriyaki

1/2

cup

soy sauce

3

tablespoons

honey

1

tablespoon

gravy master

1

teaspoon

sesame oil

5

tablespoons

extra virgin oil

1

teaspoon

kosher salt

1/4

cup

floor
Instructions
Season the chopped pork in a mixture of black pepper and kosher salt. Heat 3 tablespoons olive oil and sear the meat till it turns brown. Set it aside.

Peel and chop the onion, carrots and place them in a cooking pot. Add pork to the mixture, and top it off with crushed ginger and garlic, coupled with pineapple dices and red and green bell pepper at moderate heat.

In a mixing bowl, add teryiaki sauce, soy sauce, honey, sesame oil and the gravy master

Thicken the gravy by adding a heated mixture of butter and wheat floor

Serve with either white or fried rice, Enjoy!