Vegetable scones is a famous dish for the Northeast. Northeasters often use it for meals.How to make the vegetable scones. Many people like to eat the vegetable scones.But it does n't seem easy to succeed. Let's take a look today.
How to Make Vegetable Scones
Step 1
Knead the dough.
Step 2
Rub the dough into the shape of the growing strip.
Step 3
And then divide it into small pieces of dough.
Step 4
And press into a small round cake of this thickness.
Step 5
Preheat the electric cake clang in advance. Then put the pie in. Just presses the start button.
Step 6
Wait about 8 minutes to turn on the electricity cake clang. By this time the scones were almost ripe. Then turn over the other side of the pastry and continue to bake.
Step 7
The scones are cooked in three minutes.
Step 8
Place the scones in a plate. You can eat it with a dish when you have a meal.
Such delicious vegetable scones is complete.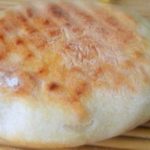 Print Recipe
Vegetable Scones
Equipment(affiliate link)
Ingredients(affiliate link)