Four-leaf vegetable soup is a famous dish for the Northeast. Northeasters often use it for meals.How to make the four-leaf vegetable soup. Many people like to eat the four-leaf vegetable soup.But it does n't seem easy to succeed. Let's take a look today.
How to Make Four-leaf Vegetable Soup
Step 1
Wash Four-leaf vegetable.
Step 2
Pour water into the pan. Wait until the water boils and put four-leaf vegetables into the pan.
Step 3
Fish out the cooked four-leaf vegetables and rinse it with cold water.
Step 4
Drain the four-leaf vegetables and cut them into segments. Slice the pork and cut the scallion into chopped pieces.
Step 5
Pour the oil into the pan, until the temperature of the oil rises and the pork slices are added and stir-fry until the oil comes out.
Step 6
Put in the scallion and stir-fry.
Step 7
Put in the appropriate amount of pepper powder and fry.
Step 8
Pour in a little soy sauce to make the color.
Step 9
Pour in the right amount of water, cover the pan and cook on a large fire.
Step 10
Wait until cooked, and put in the four-leaf vegetables and cook a little.
Step 11
Put in the right amount of salt to make the taste.
Step 12
Then put in a little MSG so that you're done.
Such delicious four-leaf vegetable soup is complete.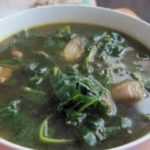 Print Recipe
Four-leaf Vegetable Soup
Equipment(affiliate link)