The water chestnut cake is a traditional dessert snack in the area of Guangdong, Guangxi, Fuzhou and southern Fujian provinces.It is said that it originated in the Tang Dynasty and was made by steaming water chestnut powder with sugar water. Water chestnut is also called horseshoe in Cantonese. Its color is yellow, translucent, folding but not cracking, pouting and continuous, soft, smooth, refreshing, tough and sweet.
The horseshoe cake tastes sweet and melts in the mouth. Its taste makes the horseshoe cake very prominent in Cantonese cuisine.
How To Make The Traditional Southern China Dessert-The Water Chestnut Cake
Step 1
Prepare all the materials
Step 2
Take 50 grams of water chestnut powder.
Step 3
Then add 200 grams of coconut juice and stir to make a granulated powder
Step 4
Take 50 grams of water chestnut powder again.And put it in another plate.
Step 5
Add 100g of clear water and stir to make a powder without particles
Step 6
Add 60 grams of sugar to 100 grams of clear water and put them into the milk pot to boil until the sugar dissolves,
Then cool it down
Step 7
Pour the sugar water into the powder paste of clear water and stir evenly
Step 8
Take a proper amount of syrup and spread it evenly on the bottom of the dish
Step 9
Put it into the steamer and steam for about 3 minutes until it is completely transparent and solidified.
Step 10
Then spread the coconut milk on the transparent water chestnut cake
Step 11
Same as above, steam until cooked
Step 12
Add flour paste to steam layer by layer until all materials are steamed, take out,
Just cool it and cut it into pieces
Let's try the water chestnut cake,it's suitable for us to eat after dinner.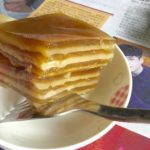 Print Recipe
The Traditional Southern China Dessert-The Water Chestnut Cake
Ingredients
100

g

Water chestnut flour

200

g

Coconut milk

200

g

water

620

g

Slice sugar