At the request of the child to eat Fried bun, but also to eat seafood flavor. Considering I had dumplings the other day, the bun of sponging flour,that's definitely right for the stomach. So I decided to make the fried bun with scallop meat.
How To Make The Delicious Fried Bun With Scallop Meat
Step 1
Add 3 grams of baking powder to the flour, knead it into a soft and hard dough, cover with plastic wrap and ferment.
Step 2
The leavened dough doubles in size.
Step 3
Chop up the scallion and ginger.
Step 4
Wash the leeks and chop them up.
Step 5
Soak scallop meat in warm water and wash it several times.
Step 6
Chop up the scallop meat.
Step 7
Chop up the pork.
Step 8
Mix all the ingredients together.
Step 9
Stir well to make meat filling.
Step 10
Take out the dough and roll into long strips.
Step 11
Cut into equal parts.
Step 12
Press the dosage form flat, roll into the middle slightly thick bun skin.
Step 13
Take a piece of bun skin and put the meat in the middle.
Step 14
Close it up
Step 15
By analogy, one pot of steamed stuffed bun is finished.
Step 16
Brush a layer of vegetable oil in the pot, heat the bottom of the pot, put the steamed stuffed bun cover on the pot to wake up for 10 minutes.
Step 17
After waking steamed stuffed bun to summon up a bit, a little larger than the original.
Step 18
Turn on the heat and fry until the bottom is golden brown.
Step 19
Pour water over the bottom of the pan, cover the lid and fry.
Step 20
Fry until water has dried, sprinkle with appropriate amount of chopped spring onion can be out of the pan.
Now,we can eat the fried bun with scallop meat. It is best for breakfast.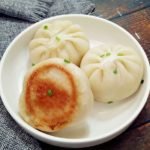 Print Recipe
The Delicious Fried Bun With Scallop Meat
Ingredients(affiliate link)