We get angry easily in the middle of summer.Loofah can help to clear heat purging fire, cold blood detoxification.In addition, it still can make our blood unimpeded. Irregular to female menstruation can have a remedial effect. Loofah contains the vitamin B1 that prevents skin ageing, the vitamin C that increases white skin to wait for an ingredient, can protect the skin, eliminate plaque, make the skin is white, delicate, it is rare hairstylist good article. So loofah juice also called "beautiful water".You can try the sweet sauteed shrimps with loofah.
How To Make The Sweet Sauteed Shrimps With Loofah
Step 1
Wash the loofah, peel thick skin, cut into about 5CM long section, then cut vertically, one into four
Step 2
So,cut all the loofah segments and set aside
Step 3
Defrost shrimps and drain. Add a little salt and cooking wine and marinate. Set aside
Step 4
Heat oil pan, add ginger garlic saute fragrant
Step 5
Pour in the shrimps and stir-fry. During the stir-fry, some of the water will drain out because it's frozen
Step 6
When the water is dry, add loofah and stir well
Step 7
When loofah gets soft, adding suitable amount of salt,and the sweet sauteed shrimps with loofah is done!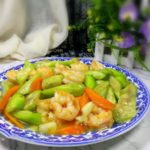 Print Recipe
The Sweet Sauteed Shrimps With Loofah
Equipment(affiliate link)
Ingredients(affiliate link)
350

g

loofah

350

g

Shrimps
Accessories