The eggs stir-fry with shredded mustard and white porridge are one of the simplest health breakfast in Guangdong province.
The pickle is crisp and tender in texture, delicious in flavor and rich in nutrition. It has a special flavor, a special sour taste and a salty taste. It is crisp and refreshing. The egg has a pleasant and smooth taste, which can nourish the spleen and stomach, nourish the lung and blood, nourish the Yin and moisten the dryness, and is used for the deficiency of qi and blood, fever and thirst, and the disturbance of fetal movement. Pickle and egg are all edible for the general population. In the morning, fry an egg with pickle and boil a bowl of white porridge.
Tips:
Mustard has a salty taste, so no extra salt is needed. It's delicious.
How To Make The Suitable Dish For Breakfast-The Eggs Stir-fry With Shredded Mustard
Step 1
Prepare the ingredients
Step 2
Dish up burning oil, saute garlic slices
Step 3
Pour the egg liquid and stir-fry until slightly solidified into pieces
Step 4
Pour in the mustard wire, stir fry quickly and evenly, then turn off the heat
Step 5
Pour into a small scallions stir evenly,and the eggs stir-fry with shredded mustard can be out of the pot to eat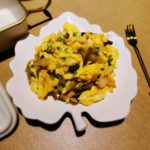 Print Recipe
The Suitable Dish For Breakfast-The Eggs Stir-fry With Shredded Mustard
Equipment(affiliate link)