In the spring season, everything revives. Flowers and trees sprout. A kind of tree called toon also sprouts. I've heard that the tender buds can make delicious food. Toon is also called "vegetable on the tree". Just in Yunnan, my relatives sent me a large box of red toon buds. I saw a box of leaves, which also had a fragrant smell. I was looking forward to this leaf dish. My mother-in-law made a classic Chinese toona sinensis, fried eggs with toona sinensis.
How To Make The Traditional Fried Egg With Toona Sinensis
Step 1
Prepare materials, toona sinensis and eggs
Step 2
Remove the old stem of Chinese toona sinensis and wash it. Blanch it in boiling water until it turns green
Step 3
Wring up the water and dice the Chinese toona sinensis. Knock the eggs into the bowl for later use
Step 4
Stir to make it mixed evenly
Step 5
Prepare a non stick pot. Heat the oil in the hot pot and pour it into the egg liquid, fry it to make golden yellow
Step 6
Turn it over to the other side and fry it to make golden yellow. Stir once and serve on a plate.Let's try the fired egg with Chinese toona sinensis.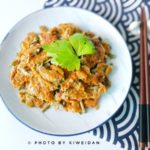 Print Recipe
The Traditional Fried Egg With Toona Sinensis
Equipment(affiliate link)
Ingredients(affiliate link)
3

eggs

1

bundles

toona sinensis
Accessories