The special baked fish with leek flower is a food made of baked fish, leek flower and other food materials.
Before we learn to make it , I have some tips for you.
There are many kinds of baked fish, the salt content is different, you should try the salt of baked fish in advance, and then according to the actual situation to increase the amount of the salt and pepper flavor
Leek flower is easy to cook, only needsa short time to stir fry
Fry the baked fish in advance to make the baked fish taste more fragrant and crisp
How To Make The Special Baked Fish With Leek Flower
Step 1
Wash and clean the baked fish and set aside
Step 2
Wash the leek flower, remove the old root.Cut 5cm section and set aside
Step 3
Lobster sauce soaked,Cut the ginger and garlic into the size of a grain of rice,Tara washed and set aside.
Step 4
Heat up a pot of oil and fry the fish until fragrant. Drain and set aside
Step 5
Heat up a wok of oil, add black beans, ginger garlic, spicy stir-fry fragrant
Step 6
Put the leek flower into the pot, stir fry for 1 minute
Step 7
Put the baked fish into the pot, sprinkle monotonous glutamate, salt, stir fry for 1 minute
Step 8
Sprinkle barbecue powder, steam fish in soy sauce, stir fry until fragrant
You may try the special baked fish with leek flower while it is still warm.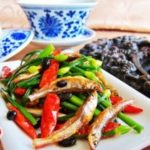 Print Recipe
The Special Baked Fish With Leek Flower
Ingredients(affiliate link)