The sauteed egg is a family recipe, the main raw material is egg, the taste is black bean sauce, the process is Fried, the difficulty is intermediate.
Before we learn to make it , I have some tips for you.
If you're afraid of spicy food, you can skip or put less ofthe small red peppers.
vinegar has the effect of increasing the flavor of eggs, do not omit, but do not put too much.
if you like a more tender poached egg, you can fry for a short time, leaving a little yolk of sugar,it tastes good too.
How To Make The Simple But Delicious Sauteed Egg
Step 1
Add a little oil to the pan, moisten the bottom of the pan evenly, and fry the eggs into the pan to form the bottom
Step 2
Turn over several times and fry until golden brown on both sides
Step 3
Cut the ginger and garlic into the size of rice, cut the spicy rice into rings, cut the spring onion into flowers, and soak the black bean until ready to use
Step 4
Cut the egg into triangles
Step 5
Heat up the oil, add ginger garlic, tempeh, millet spicy and fragrant
Step 6
Add poached eggs and stir-fry for 1 minute
Step 7
Sprinkle salt and pepper, drizzle with light soy sauce, stir fry until fragrant
Step 8
Sprinkle chopped green onion and stir fry evenly
Let's try the sauteed egg immediately,I really can't help myself now.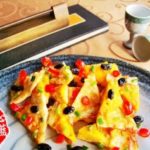 Print Recipe
The Simple But Delicious Sauteed Egg
Equipment(affiliate link)
Ingredients(affiliate link)
Accessories
The onion

Lobster sauce

oil