Braised eel is a traditional family recipe of the Han nationality. The main raw material is eel, and the auxiliary materials are garlic,refined salt, soy sauce, scallion segment and ginger slice.
Difficulty belongs to intermediate, each district does a little differently
How To Make The Great Fried Eels In Brown Sauce
Step 1
Get the ingredients ready
Step 2
Garlic ginger slice, green red pepper slice, eel section
Step 3
Put oil in wok, add garlic ginger, stir-fry until fragrant, add eel, stir fry evenly
Step 4
Add cooking wine, light soy sauce and stir fry evenly
Step 5
Add water, salt, chicken powder, sugar, oyster sauce and bring to a boil
Step 6
Lower the heat to collect the juice.Add green and red pepper, water starch, stir fry evenly.
You can enjoy the delicious braised eel now.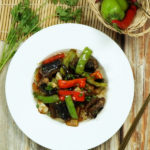 Print Recipe
The Great Fried Eels In Brown Sauce
Ingredients(affiliate link)